Indian police file charges in IPL scandal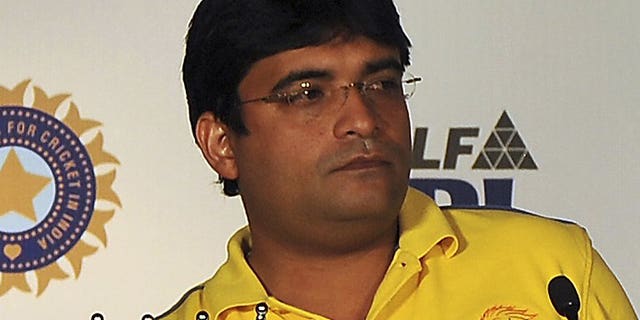 MUMBAI (AFP) – Mumbai police filed charges Saturday against the son-in-law of India's cricket chief for gambling, cheating and conspiracy, in a scandal that has engulfed the country's Twenty20 league.
Police formally charged Gurunath Meiyappan, former owner of the Indian Premier League (IPL) team Chennai Super Kings and son-in-law of Narayanaswami Srinivasan, chief of the Board of Control for Cricket in India, reports said.
They also charged Bollywood actor Vindu Dara Singh and 20 others, and named Pakistani umpire Asad Rauf along with 15 alleged Pakistani bookies as "wanted accused", the Press Trust of India (PTI) said.
PTI cited sources saying Singh and Meiyappan were charged in connection with illegal betting and not for spot-fixing, in which part of a cricket game, but not the result, is fixed.
Meiyappan was charged under the Gambling Act, the Information Technology Act and various sections of the Indian Penal Code, including for forgery, cheating, criminal conspiracy and breach of contract, PTI reported.
He allegedly handed critical information regarding his team to Singh, who is accused of passing it on to bookies.
After the 11,500-page chargesheet was filed by the crime branch, a hearing was set for November 21.
The IPL scandal emerged this year when three Rajasthan Royals players were arrested in May, along with scores of bookies, as part of a police investigation into spot-fixing, which caused outrage among fans in the cricket-mad nation.
BCCI chief Srinivasan stepped down in June -- but remains officially in the post -- after Meiyappan was arrested and later released on bail.
Gambling is mostly illegal in India, but betting on cricket matches thrives through networks of underground bookies.
National test fast bowler Shanthakumaran Sreesanth and his Rajasthan Royals' teammate Ankeet Chavan were banned from cricket for life this month after being found guilty of spot-fixing.
Their teammate Siddharth Trivedi was suspended for one year after being found guilty of the lesser charge of not informing officials about approaches made by bookmakers.
They are among 39 people who have also been charged separately in court by Delhi police in the corruption scandal.