India wildlife reserve park devastated by monsoon floods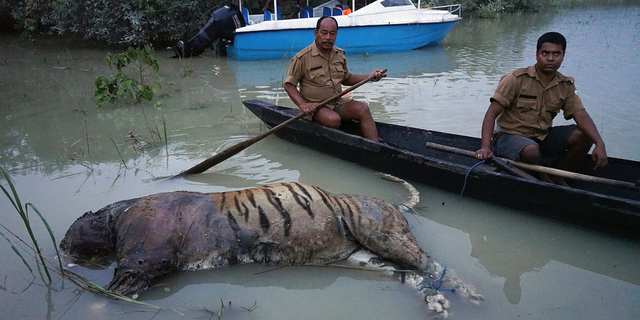 NEWYou can now listen to Fox News articles!
GUAHATI, India – Officials say rising floodwaters have inundated large parts of a famous wildlife reserve park in northeastern India, killing more than 225 animals and forcing hundreds of other animals to flee.
Park director Satyendra Singh says 15 rhinos, 185 deer and at least one Royal Bengal tiger have died in the devastating floods that have submerged almost the entire Kaziranga National Park in Assam state.
Meanwhile, across northern India and neighboring Nepal and Bangladesh, the death toll from drowning, collapsed houses and landslides triggered by annual monsoon rains climbed to around 578 on Saturday.
Army soldiers and disaster management workers in the three countries have launched mammoth rescue efforts to evacuate and provide food and shelter to the nearly 16 million people affected by the floods in South Asia.