In sordid saga, Idaho wife helps her brother hack husband to death, police say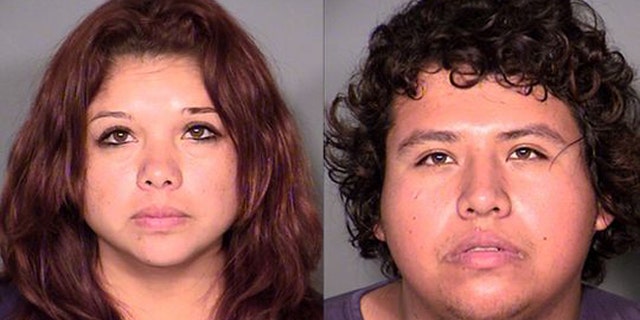 NEWYou can now listen to Fox News articles!
It's a sordid plot worthy of the pulpiest police dramas: A cheating wife is found out, things get nasty at home, and then she gets revenge by plotting her husband's death — by hatchet.
A woman from the area of Burley, Idaho, 33-year-old Maria Hernandez was arrested in Las Vegas, Nevada, with her younger brother, Hector Gutierrez, for allegedly paying and helping him to kill her husband.
Maria and her husband, 43-year-old Enrique Hernandez – who have four children together – were visiting relatives in Nevada over Memorial Day weekend, the New York Daily News reported Thursday.
According to a police report acquired by TV station KTVB in Boise, Hernandez discovered recently that his wife was cheating on him. He threatened to take custody of their kids and hired someone to beat up her lover.
Before heading to Nevada, the woman wired her brother, who lives in California, $800. Police say the money was intended to cover Gutierrez's costs in helping her carry out Hernandez's murder; she says it was to help pay his living expenses.
Either way, on a quiet side street in Vegas at 2:30 a.m. Monday morning, Hernandez's minivan broke down. Their kids weren't in the van, but the wife was.
While Hernandez was looking under the hood to try to fix the problem, police say, Gutierrez attacked him, striking him with a hatchet at least five times, leaving his head nearly severed.
Hernandez was able to defend himself, stabbing his brother-in-law with a knife.
Maria, who told police that she and her husband had been the victims of a carjacking, also claimed that she grabbed her husband's arms to try to pull him to safety.
Police believe she may have been trying to help hold him down instead.
The next day, neighbors were shocked at the grisly crime scene. "You could see the person lying in the street there," neighbor Steve Beard told KTVB.
Another resident, Bertha Flores, said, "It's scary because this is such a nice neighborhood. It's scary to be around that kind of stuff."
Las Vegas police had a hard time making sense of Maria Hernandez's car-jacking story, and when they found the minivan about 10 miles away, they found a half-mile-long trail of blood leading to a vehicle registered to Gutierrez.
Police tracked him down at the hospital where he had gone to receive treatment for the stab wound, which he told doctors had occurred when he was being robbed. When asked about his brother-in-law, police say Gutierrez confessed to killing him on his sister's behalf.
Brother and sister now face charges of murder with a deadly weapon and conspiracy to commit murder.
Like us on Facebook
Follow us on Twitter & Instagram