In court, Egypt's ousted Mubarak defends his rule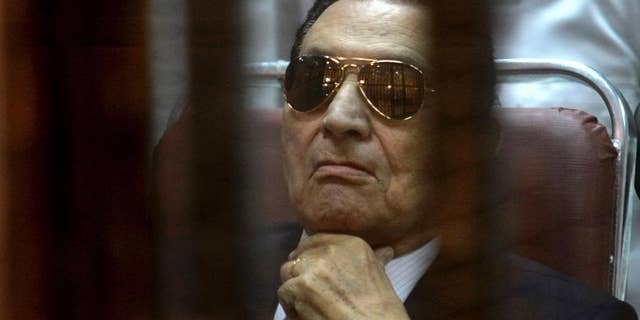 CAIRO – Egypt's deposed President Hosni Mubarak on Wednesday denied that he ordered protesters killed during an uprising in 2011, in his first lengthy speech to a court as his year-old retrial draws to an end.
The 86-year-old Mubarak was speaking from a gurney inside a cage that holds defendants, listing the achievements of his 29-year rule. He said he was not forced from power in 2011 but gave it up voluntarily so that Egypt would avert an "abyss."
"Mohammed Hosni Mubarak would never order the killing of protesters ... or shedding the blood of Egyptians," he said in an emotional plea from the cage, wearing a blue suit and with reddened eyes.
Mubarak is serving a three-year sentence in a separate corruption case. He was found guilty in June 2012 for failing to stop the killings of protesters and sentenced to life imprisonment but won a retrial, which began in April 2013.
The final verdict will be issued on Sept 27, the judge said.
Echoing a narrative adopted by many of the men from his regime, Mubarak said that the 2011 protests had been taken over by "exploiters of religion inside and outside the country" who steered the demonstrations to violence.
Such language is frequently used by Mubarak-era media men and officials to refer to the Muslim Brotherhood group, whose leader Mohammed Morsi became Mubarak's successor in the country's first free elections in 2012.
A year later, the military overthrew Morsi after millions staged demonstrations against him demanding him to resign for what they called abuse of power.
"The wheel of history doesn't go backward," said the aging Mubarak, who said this would likely be his last speech before his death. "No one can fabricate history," he added.