Immigration Advocate Deported To Mexico In 2007 Illegally Crosses U.S. Border, Asks For Sanctuary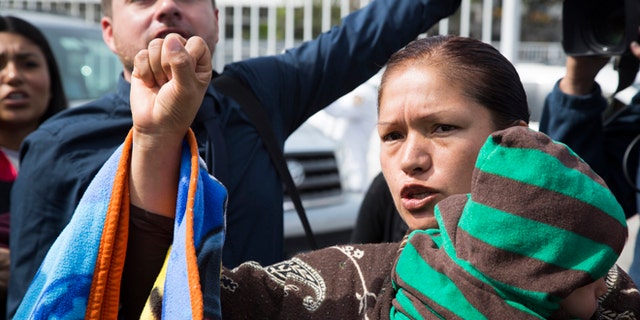 TIJUANA, Mexico (AP) – A Mexican immigrant rights advocate who gained international attention when she took refuge in a Chicago church before being deported asked Tuesday for refuge in the United States on humanitarian grounds.
Elvira Arellano crossed into the United States with her U.S.-born teenage and 4-year-old sons along with a group of Mexican and Central American migrants from the border city of Tijuana, many of them deported mothers with U.S.-born children.
"I am asking that they let me in the United States legally on humanitarian grounds, because I am a defender of human rights in Mexico and I've received kidnapping and violence threats," Arellano said before entering the U.S. "But more importantly, because they have separated my son from his chance to have a good upbringing."
Arellano, 38, was deported to Mexico in 2007 after seeking sanctuary at a Chicago church for a year. She was deported without her son, who eventually reunited with her in Mexico.
Organized by the National Immigrant Youth Alliance, this was fourth such group to enter the U.S. at the Otay Mesa border crossing in San Diego in the last nine days, as part of protests to demand an overhaul of U.S. immigration laws and an end to deportations.
The migrants have asked for asylum or visas on humanitarian grounds because they say they have been threatened by criminals or extorted by organized crime.
"I know I'm risking my freedom and being with my children because I could go to prison," Arellano said before crossing. "But I will fight to be with my children"
After Arellano was deported to Tijuana, she founded a home for deported migrants and began speaking publicly about the complex reality of migrant families and how deportations are making their lives more difficult.
President Barack "Obama has to stop the deportations and allow us to be with our families," she said.
Unlike similar protests last year in Arizona and Texas, many of those crossing into California are not "dreamers" — young adults who came to the U.S. as children. Like Arellano, they are parents who are seeking to return to the U.S. without legal documents, accompanied by their U.S. citizen children.
At least two families who have crossed as part of the protests were notified by U.S. authorities that the children would be turned over to a child welfare agency if they were unwilling or unable to immediately designate a responsible adult to take them.
Javier Galvan, 38, said he got a call Sunday in Jacksonville, Florida, after his wife and two children crossed into the U.S. that he had 48 hours to pick up his 6-year-old daughter and 3-year-old son — both U.S. citizens —or they would be placed in child protective services. Their mother, Cecilia Cortes, was held separately in a detention center after claiming asylum. The family returned to Michoacan state in Mexico to visit an ailing relative in 2011.
"We were really surprised," said Galvan, who claimed asylum last year in the Texas protest and was released pending the outcome of his case. "The children need their mother."
The children were picked up Monday at a shelter by a relative who drove from San Francisco.
Customs and Border Protection didn't immediately respond to questions about the children with U.S. citizenship.
An official at the Mexican consulate in San Diego who spoke on condition of anonymity because the cases are considered private confirmed that U.S. citizen children are being turned over to child welfare authorities. The official didn't know how many.
Rocio Hernandez, an organizer for the National Immigrant Youth Alliance, said that 14 U.S. children had been separated from their parents and put in shelters before Sunday.
Follow us on twitter.com/foxnewslatino
Like us at facebook.com/foxnewslatino