Hurricane Dorian downgraded to Category 2 storm, continues its assault on the Bahamas
Hurricane Dorian, the monster of a storm that's pummeled parts of the Bahamas for the past 36 hours, has been downgraded to a Category 2 storm as it finally starts to inch away from Grand Bahama -- but the storm is showing signs it's growing before taking aim at the Southeast.
The National Hurricane Center said, as of 11 a.m. EDT, the storm is continuing to produce wind gusts of up to 110 mph and a storm surge of 10-to-15 feet "with higher destructive waves." The storm's current movement is northwest at 2 mph with "dangerous winds and life-threatening" storm surge continuing to impact Grand Bahama Island.
Dorian was located about 45 miles north of Freeport on Grand Bahama Island and about 105 miles east of West Palm Beach, Fla.
The hurricane, while losing some wind speed, is growing in size, according to the NHC. Hurricane-force winds now extend outward up to 60 miles from the center, while tropical-storm-force winds extend outward up to 175 miles.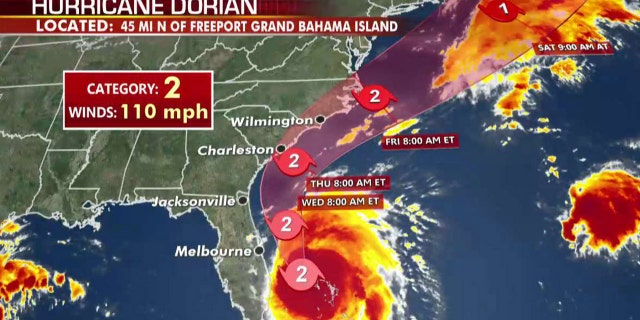 "It's going through some structural changes in terms of the eye and when it does that, the wind field expands," Fox News Senior Meteorologist Janice Dean said on "Fox & Friends."
She added: "So this storm is getting larger, it's going to affect more territory, even if the core of the strongest winds stay offshore."
HURRICANE DORIAN'S PATH: WHAT YOU NEED TO KNOW
In the Bahamas, devastating images revealed the scope of the damage from Dorian's catastrophic daylong halt over the islands that flooded Abaco and Grand Bahama with walls of water that lapped into the second floors of buildings.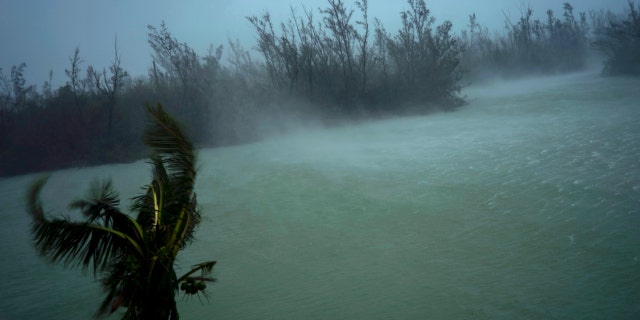 "We are in the midst of a historic tragedy," Prime Minister Hubert Minnis said. "The devastation is unprecedented and extensive."
Officials said that at least five people have died and 21 injured people were airlifted to the capital by the U.S. Coast Guard. Bahamian officials said they received a "tremendous" number of calls from people in flooded homes, with one radio station saying it received more than 2,000 distress messages, including reports of a 5-month-old baby stranded on a roof and a woman with six grandchildren who cut a hole in a roof to escape rising floodwaters.
"We're definitely in dire straits."
Videos posted to Twitter showed the extent of storm surge, with floodwaters nearing the second-story of homes.
Parliament member Iram Lewis told The Associated Press his greatest fear was that waters would keep rising overnight and that stranded people would lose contact with officials as cellphone batteries died.
"It is scary," he said, adding that Grand Bahama's airport was 6 feet underwater and that people were moving from one shelter to another as floodwaters kept surging. "We're definitely in dire straits."
Winds and rain continued to pound the northwest islands. Abaco and Grand Bahama, neither much more than 40 feet above sea level at their highest points, are home to some 70,000 people.
CONTINUING COVERAGE ON FOX NEWS CHANNEL
The NHC has said that Dorian is forecast to slowly begin moving to the west-northwest Tuesday while continuing to pound Grand Bahama Island into the morning. The storm will then move "dangerously close" to Florida's east coast through Wednesday evening before taking aim at the Georgia and South Carolina coasts on Wednesday night and Thursday.
Hundreds of thousands of people in Florida, Georgia, and South Carolina were ordered to evacuate, with South Carolina officials reversing all lanes of Interstate 26 from Charleston to head inland.
By Thursday night, Hurricane Dorian is forecast to be near or over the North Carolina coast, still as a Category 2 storm.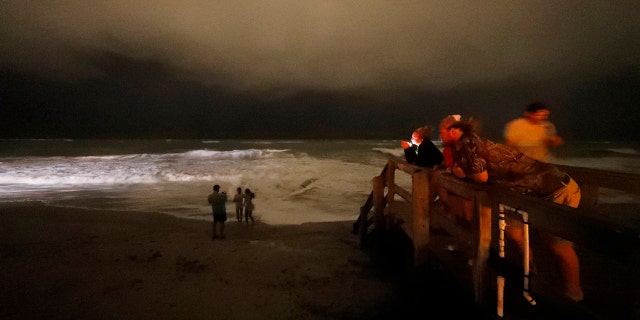 "We're talking about perhaps a major hurricane or category 2 moving in somewhere, the border between North and South Carolina, that's going to do devastating things to the low-lying areas," Dean said Tuesday.
CLICK HERE TO GET THE FOX NEWS APP
A hurricane watch was in effect for Florida's East Coast from Deerfield Beach north to South Santee River in South Carolina. A storm surge watch was extended northward to South Santee River in South Carolina. Lake Okeechobee was under a tropical storm watch.
The storm is also having a major impact on travelers, with airlines canceling scores of flights to Orlando, Fort Lauderdale and Miami airports.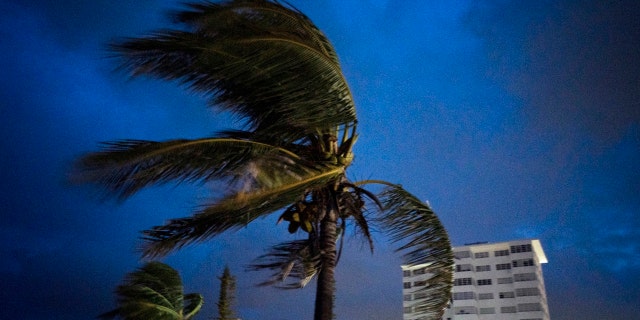 Walt Disney World said its four theme parks will close by 3 p.m. on Tuesday because of Hurricane Dorian. The theme park resort also plans to close its water park, miniature golf courses and its restaurants and shops at Disney Springs by 3 p.m. on Tuesday.
Disney World officials said its resorts will remain open.
Its campground will close at 3 p.m. Tuesday and stay closed until the hurricane passes near the Florida coast. Guests at the campground will be relocated to other resorts at Disney World.
The Associated Press contributed to this report.