Hurricane Dorian is the strongest storm to ever threaten Florida's East Coast, batters Bahamas
Florida weather officials warned Monday that Hurricane Dorian -- the Category 4 storm that continues to batter parts of the Bahamas with sustained wind gusts of 155 mph -- is the strongest storm to ever threaten the state's East Coast.
The storm -- which weakened slightly to a Category 4 status late Monday morning -- is currently about 105 miles east of West Palm Beach and is moving west at 1 mph. Millions of residents on the East Coast are watching to see if Dorian will turn north in the next two days and spare them with a direct hit. In the Bahamas, the storm is being reported to have claimed its first death -- an 8-year-old boy in the Abaco Islands.
WHAT YOU NEED TO KNOW ABOUT DORIAN'S PATH
"No matter what path this storm takes, our state will be impacted," said Jared Moskowitz, the director of Florida's Department of Emergency Management. "We will continue to work around the clock to prepare."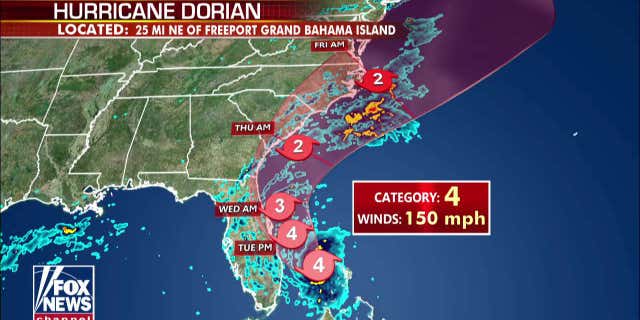 The storm's current maximum sustained winds are 150 mph and hurricane warnings and watches are in effect for large portions of Florida's eastern coastline. The National Hurricane Center said early Monday that Dorian is forecast to make a "slow westward to west-northwestward motion" over the next day or so, followed by a "gradual turn toward the northwest and north.
"On this track, the core of extremely dangerous Hurricane Dorian will continue to pound Grand Bahama Island through much of today and tonight," it added. "The hurricane will move dangerously close to the Florida east coast tonight through Wednesday evening."
IF YOU'RE IN STORM'S PATH, YOU SHOULD KNOW THESE CRITICAL THINGS
The current hurricane warnings and watches stretch from Deerfield Beach, Fla., north to the Georgia state line. The same area was put under a storm surge watch and Lake Okeechobee also was under a tropical storm watch.
Palm Beach International Airport and Fort Lauderdale-Hollywood International Airport -- two of the three major airports serving South Florida -- have shut down ahead of the storm.
On Monday, the White House also announced that President Trump signed emergency declarations for Georgia and South Carolina, which allows FEMA to coordinate disaster relief efforts there.
Outside of Florida, South Carolina Gov. Henry McMaster issued an order Sunday for the mandatory evacuation of his state's entire coast, which is set to take effect at noon today.
A few hours later, Georgia's governor, Brian Kemp, ordered mandatory evacuations for that state's Atlantic coast, also starting at midday Monday. North Carolina Gov. Roy Cooper warned his state that it could see heavy rain, winds and floods later in the week.
CONTINUING COVERAGE ON FOX NEWS CHANNEL
Glenn Richards, the chief meteorologist on Fox 35, said late Sunday that the forecast "turns Dorian northwest Monday afternoon/eve" and should keep the storm about 50-70 miles off the coast of Central Florida.
"This will produce tropical storm sustained winds and hurricane gusts along the coast with tropical-storm-force gusts inland. Still expecting 1-3 inches of rain inland with 3-6 inches near the coast," he said. "Worst weather arrives early Tuesday and departs early Wednesday."
Ken Graham, director of the hurricane center, urged people not to bet on safety just because the forecast track had the storm a bit offshore. With every new forecast, "we keep nudging (Dorian's track) a little bit to the left" -- that is, is closer to the Florida coast, Graham said.
The storm set records Sunday as it slammed into the Bahamas.
At one point, Dorian's maximum sustained winds reached 185 mph, with gusts up to 220 mph, tying the record for the most powerful Atlantic hurricane to ever make landfall. That equaled the Labor Day hurricane of 1935, before storms were named. The only recorded storm that was more powerful was Hurricane Allen in 1980, with 190 mph winds, though it did not make landfall at that strength.
Dorian first came ashore Sunday at Elbow Cay in Abaco island at 12:40 p.m., then made a second landfall near Marsh Harbour at 2 p.m.
"Catastrophic conditions" were reported in Abaco, with a storm surge of 18 to 23 feet.
"It's devastating," Joy Jibrilu, director general of the Bahamas' Ministry of Tourism and Aviation, said Sunday afternoon. "There has been huge damage to property and infrastructure."
The Eyewitness News station in the Bahamas interviewed a grandmother late Sunday who told them her 8-year-old grandson had died in Abaco, possibly from drowning.
Video that Jibrilu and government spokesman Kevin Harris said was sent by Abaco residents showed homes missing parts of roofs, electric lines on the ground and smashed and overturned cars. One showed floodwaters rushing through the streets of an unidentified town at nearly the height of a car roof.
In some parts of Abaco, "you cannot tell the difference as to the beginning of the street versus where the ocean begins," Prime Minister Hubert Minnis said. According to the Nassau Guardian, he called it "probably the most sad and worst day of my life to address the Bahamian people."
CLICK HERE TO GET THE FOX NEWS APP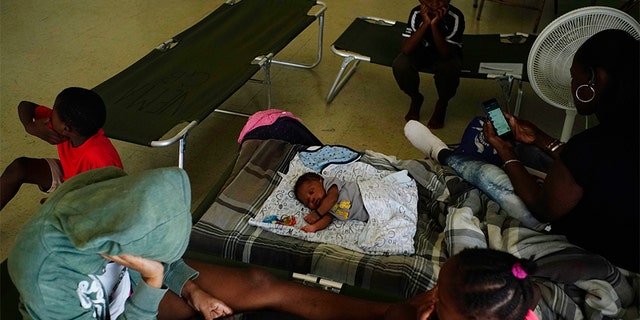 Dr. Hubert Minnis, the prime minister of the Bahamas, cried on Sunday as he described the devastation left behind. Forecasters said the storm was most likely to begin pulling away from the Bahamas early Tuesday.
"This is a deadly storm and a monster storm. I can only say to them, that I hope this is not the last time they will hear my voice and may God be with them," he said.
Fox News' Frank Miles and the Associated Press contributed to this report.