Hurricane Dorian's path: What you need to know
The fourth named storm of the hurricane season, Dorian, made landfall at Cape Hatteras on North Carolina's Outer Banks Friday morning as a Category 1 storm.
The storm, which had reached Category 5 strength earlier in the week, devastated the Bahamas, where the death toll has risen to 30.
The storm had been stationary for more than a day and a half over the northwest Bahamas, flooding the islands of Abaco and Grand Bahama with walls of water that reached the second floors of buildings.
The hurricane's arrival came after Tropical Storm Chantal formed earlier this month over the far Northern Atlantic. Subtropical storm Andrea formed on May 21 and quickly fizzled a day later over the Atlantic, southwest of Bermuda. Hurricane Barry, the second storm, made landfall in Louisiana on July 13 as a Category 1 storm.
HERE ARE THE DEADLIEST AND COSTLIEST HURRICANES TO HIT THE U.S. MAINLAND
Where is Hurricane Dorian now?
The National Hurricane Center in Miami said as of 2 p.m. ET Friday that Dorian was a Category 1 storm with maximum sustained winds at 90 mph. Dorian was located about 125 miles northeast of Cape Hatteras and is continuing to move northeast at 21 mph.
The hurricane varied in intensity between a Category 3 storm and Category 2 storm since Tuesday night, according to the NHC. Hurricane-force winds were extending outward up to 45 miles from the center, while tropical-storm-force winds were extending outward up to 220 miles.
Where is Hurricane Dorian going?
Dorian currently is heading northeast at 21 mph.
2019 ATLANTIC HURRICANE SEASON NOW FAVORS 'ABOVE-NORMAL' ACTIVITY, WITH 10-17 NAMED STORMS, NOAA SAYS
The center of Dorian should move to the southeast of extreme southeastern New England by Friday night and Saturday morning, and approach Nova Scotia later on Saturday.
What impact will Hurricane Dorian have?
The hurricane battered parts of the Bahamas on Sunday as a Category 5 with 185 mph winds, making it the second-strongest storm in the Atlantic Ocean since 1950.
Hurricane warnings have been posted for parts of North Carolina, while tropical storm warnings are in effect in a large stretch of the east coast, ranging from North Carolina to Maryland's border with Delaware.
Tropical storm warnings also have been issued in the Northeast for Nantucket, Martha's Vineyard, and on Cape Cod from Woods Hole to Sagamore Beach, Mass.
CLICK HERE FOR THE FOX NEWS APP
"Tropical storm conditions are expected in the Tropical Storm Warning area in the Mid-Atlantic states by Friday, with tropical storm conditions possible in the Tropical Storm Watch area Friday or Friday night," the NHC said. "Tropical storm conditions are possible over portions of southeastern Massachusetts by late Friday or early Saturday."
Forecasters are warning that a combination of a dangerous storm surge and the tide will cause normally dry areas near the coast of the Southeast to be flooded by rising waters moving in from the shoreline. The storm surge could reach between five to eight feet in portions of South Carolina, and four to seven feet in parts of North Carolina.
"Water levels could begin to rise well in advance of the arrival of strong winds. The surge will be accompanied by large and destructive waves," the NHC said. "Surge-related flooding depends on how close the center of Dorian comes to the coast, and can vary greatly over short distances."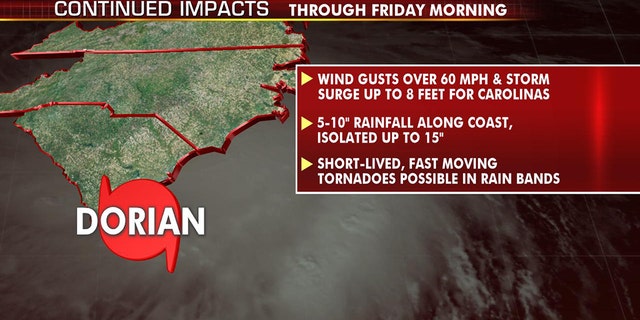 Dorian is also forecast to bring heavy rainfall as it brushes the Southeast, with six to 12 inches of rain expected in the coastal Carolinas with isolated amounts of 15 inches, while far southeast Virginia is forecast to see three to eight inches, and extreme southeastern New England may see two to four inches of rain.
"This rainfall may cause life-threatening flash floods," the NHC said.
Dorian is also churning up the seas, and bringing large swells to the entire Southeastern coast from Florida through North Carolina over the next several days.
"These swells are likely to cause life-threatening surf and rip current conditions," the NHC said.
Fox News' Frank Miles, Greg Norman, Talia Kaplan and Melissa Leon contributed to this report.