Hugo Chavez Rushed to Emergency Room with Kidney Failure, Says Report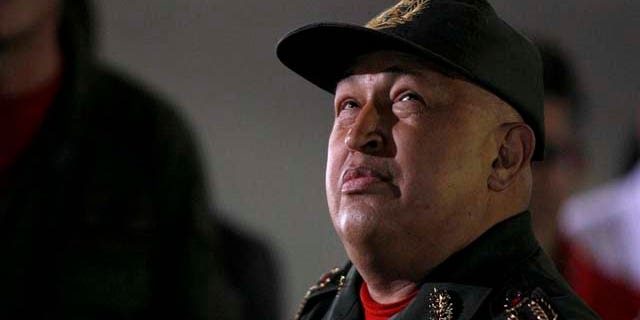 Venezuelan President Hugo Chávez was admitted to the emergency room in the Military Hospital in Caracas Wednesday night, and reportedly is in serious condition as his recovery appears to have taken a turn for the worst, sources tell El Nuevo Herald.
Sources, "who spoke on the condition of anonymity," said the President was in "bad shape" as he was escorted by his own security team from the presidential palace to the Hospital, according to the Miami newspaper.
Another person from the Military Hospital said Chávez was showing signs of kidney failure after an intense cycle of chemotherapy. The source said the president had shown signs of aplastic anemia - the disappearance for blood production in the bone marrow.
Doctors are now considering the possibility of transferring him to the private Hospital Clinicas Caracas, where he could be better treated for renal problems, according to those close to the situation.
The Venezuelan President's health is considered a state secret which is only fueling speculation about his recovery since he first underwent surgery in Cuba in June to remove a tumor from his pelvic region.
Since then, he has undergone three rounds of chemotherapy, and has said this should be the fourth and final phase.
"I'm just about to finish," Chávez told the AP last week. "It's something malignant that's turning into something benign."
"I promise you I will live," he said.
Meanwhile Andrés Izarra, Venezuela's Communication Minister , responded to the El Nuevo Herald report via his own Twitter account IzarraDeVerdad.
"We should admit the journalists from El Nuevo Herald in a madhouse," Izarra said in a commentary.
On Monday, Chávez attempted to squash rumors by speaking over the phone with a Venezuelan television station, claiming that the opposition is trying to use his illness to gain political advantage. The President said the opposition is under the advisory of "gringos and other Venezuelans" who are spreading the false rumor that he is in grave condition and that he left to Cuba.
Despite these statements, former U.S. ambassador to the Organization of American States (OAS), Roger Noriega, is unconvinced citing his own sources within Venezuela that the President is in serious condition and "not improving like his doctors had hoped," according to El Nuevo Herald.
"This means we should start to think, and we should prepare for a world without Hugo Chávez," he said.
Follow us on twitter.com/foxnewslatino
Like us at facebook.com/foxnewslatino