Hugo Chavez Returns to Cuba for Another Round of Cancer Treatment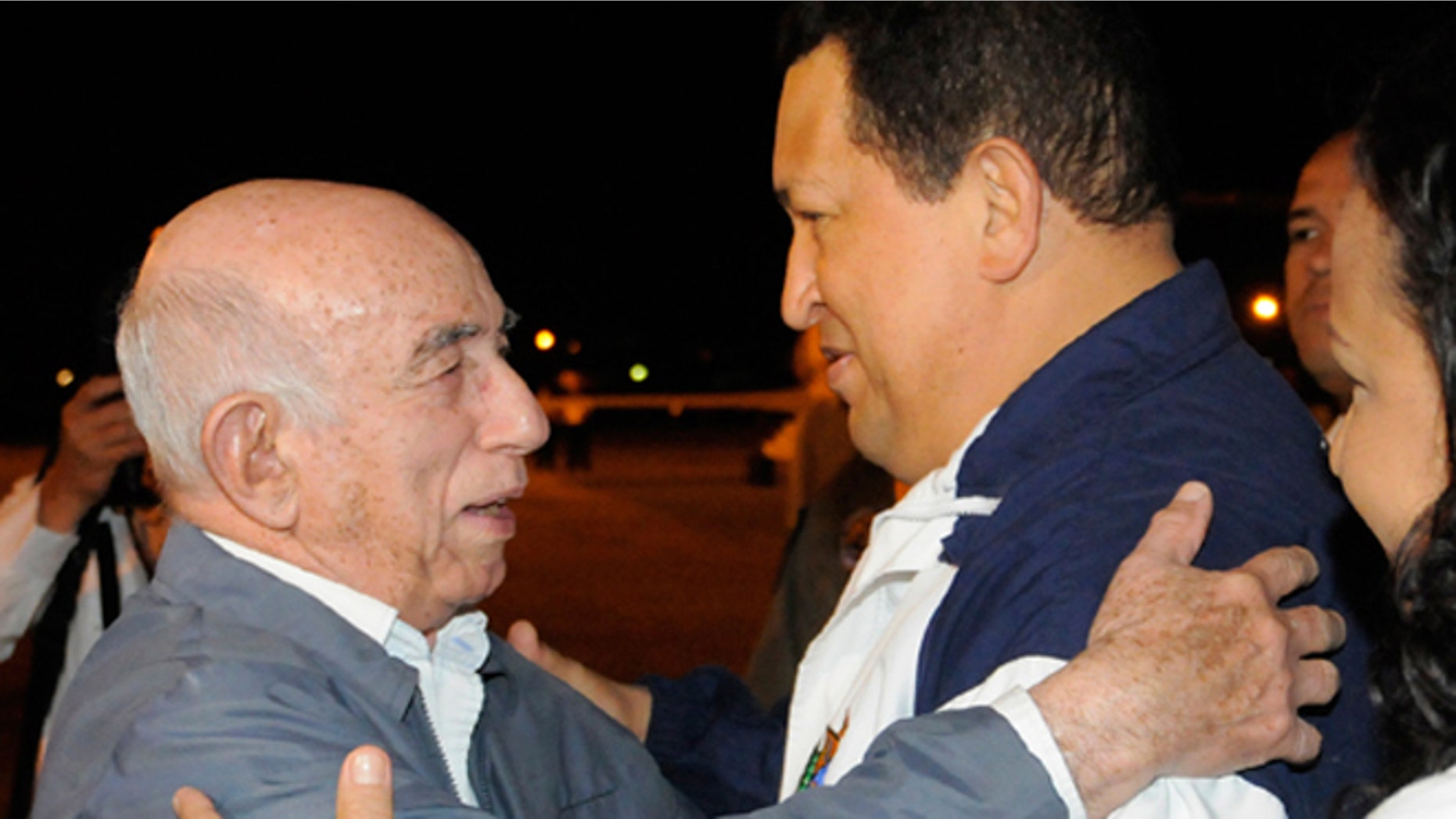 Venezuelan President Hugo Chávez arrived in Cuba Saturday night for a fourth round of cancer treatment, the Communist island's state press reports.
CubaDebate, a government-run news website, published photos of Chávez's arrival. He was accompanied by his daughter Rosa Virginia and both were greeted by Cuban Vice President José Ramón Machado Ventura.
Chávez has traveled to Cuba three times since beginning radiation therapy in March for trips of up to five days, but he said on Friday his stay in Cuba will be longer this time.
"Since we're going to enter the second and last phase of treatment, and that treatment is rough ... I'm thinking of asking for permission not to return in the middle of the week next week, but rather stay in Cuba all of this next week to receive the complete treatment and not have to be going and coming," he said.
The news comes as Chávez made a last-minute decision Saturday to forgo an appearance at the Summit of the Americas in Cartagena, Colombia, citing medical issues.
Chávez appeared briefly on television Saturday night as he waved goodbye to aides at Caracas' international airport and climbed the stairs of the presidential jet, heading to Havana for another round of radiation treatment. He didn't make any comments, but a message on his Twitter account said: "Here we go, to continue doing battle! And to continue overcoming! ... We will live and we will win!"
Chávez, who is running for re-election in October, told a crowd of supporters on Friday that the radiation therapy has affected his strength but said, "I'm doing well."
Chávez began radiation treatment in Cuba in late March after undergoing an operation in February that removed a second tumor from his pelvic region. The first was taken out last June. He has kept secret some details of his illness, including the type of cancer and the precise location of the tumors.
The National Assembly held a session Saturday to grant approval for the trip. Venezuela's constitution requires the president to obtain approval from lawmakers when leaving the country for more than five days.
Doctors say common side effects of radiation therapy include fatigue and damage to areas exposed to the radiation beams, as well as nausea and diarrhea in cases such as Chavez's in which the pelvic area is treated.
"His physical condition isn't allowing him to do the things he used to do," said José Vicente Carrasquero, a political science professor at Venezuela's Simon Bolivar University.
Contains reporting by the Associated Press.
Follow us on twitter.com/foxnewslatino
Like us at facebook.com/foxnewslatino