Hugo Chavez Begins Radiation Therapy in Cuba on Eve of Pope Benedict XVI's Visit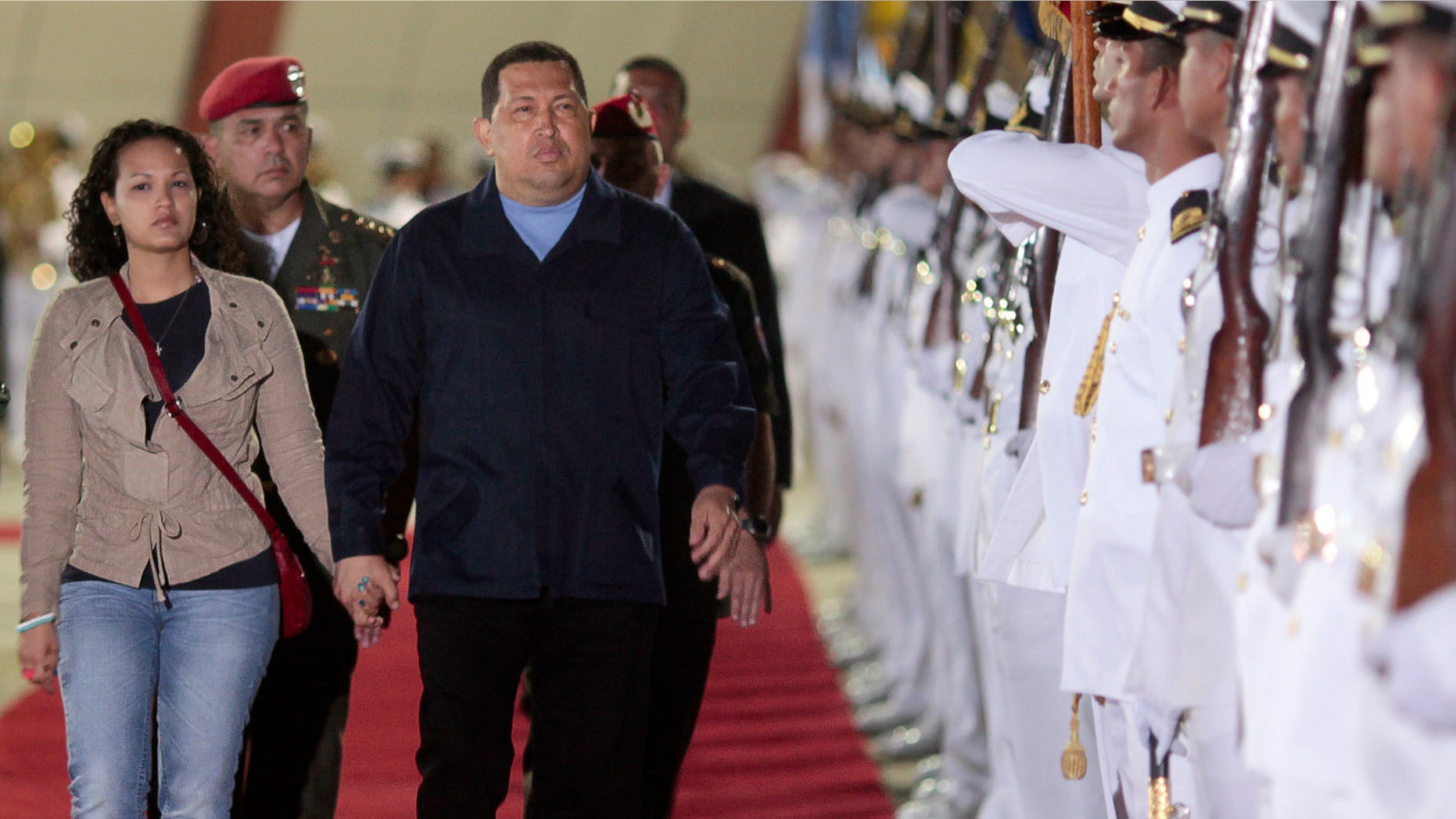 Venezuelan President Hugo Chávez arrived in Cuba this weekend to begin radiation therapy, just two days before Pope Benedict XVI's visit to the island.
Chávez was met by Cuban President Raúl Castro as he arrived at Havana's airport on Saturday night. The Cuban government newspaper Juventud Rebelde published on its front page a photo of the two shaking hands, saying Castro welcomed the Venezuelan leader with an embrace.
Chávez said before leaving Venezuela that he would start the treatments on Sunday. He has been recovering from a Feb. 26 surgery in Havana that he said removed a tumor from the same spot in his pelvic region where another tumor was extracted eight months earlier.
In Venezuela, some of Chávez's aides led his supporters in a prayer for his health Sunday morning outside the cathedral in the southwestern city of San Cristóbal, and then the crowd began a pilgrimage on foot to another church.
Chávez will be in Cuba at the same time as Pope Benedict XVI, who arrives on the island on Monday after a visit to Mexico. But in his remarks on Saturday, Chávez didn't refer to the pope's upcoming visit to Havana.
After he was diagnosed with cancer in Cuba last year, Chávez underwent an initial surgery in June that removed a tumor. He then had four rounds of chemotherapy and said tests showed no signs of any cancerous cells. But last month, he announced he was returning to Cuba for surgery to remove a lesion that proved to be malignant. He has described the most recent tumor as measuring about 2 centimeters (0.8 inches).
Chávez has not identified the type of cancer nor the precise location where the tumors have been removed.
The president has said the radiation treatments will last for four to five weeks and are intended to "attack any new threat." He said on Saturday that he expects to be traveling between Venezuela and Cuba during the treatments.
He said he preferred to return to Cuba for radiation therapy because that is where his cancer was first detected last year and where he has undergone surgeries since.
Chávez said he is thankful to his close allies and friends Fidel and Raúl Castro for the medical care he has received. He praised Cuba's health care system as "one of the most advances in this world, thanks to the Cuban revolution."
Based on reporting by the Associated Press.
Follow us on twitter.com/foxnewslatino
Like us at facebook.com/foxnewslatino