Hong Kong protesters face off with police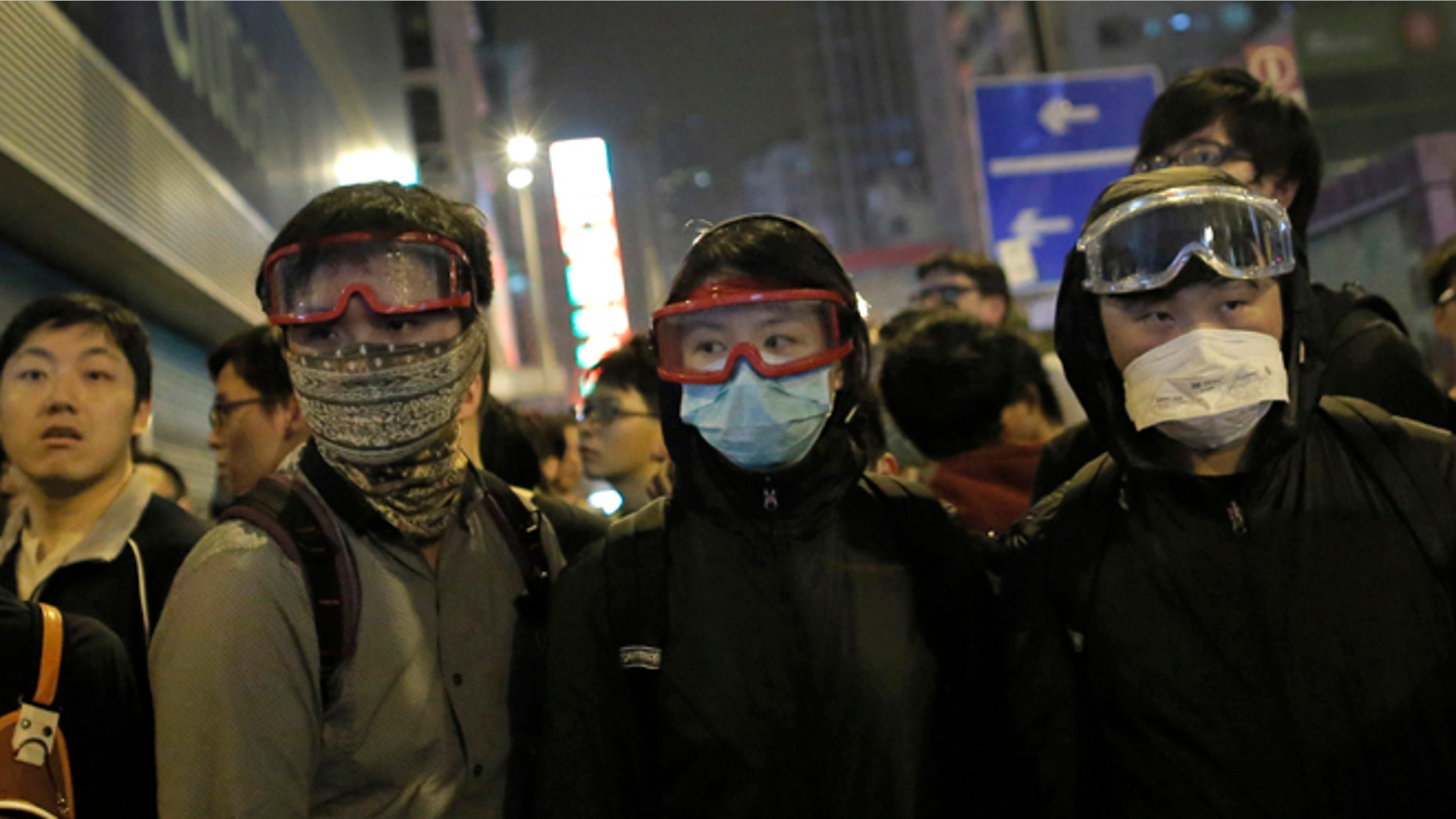 HONG KONG – Hundreds of pro-democracy protesters faced off with Hong Kong police late Sunday, stepping up their movement for genuine democratic reforms after being camped out on the city's streets for more than two months.
Student protest leaders on Sunday night told a big crowd rallying at the main protest site outside government headquarters that they would escalate their campaign by surrounding the building.
The crowd tried to push its way down a narrow staircase in an attempt to get to the office of the city's Beijing-backed leader. Hundreds of protesters charged past police lines, blocking traffic on a main road, but were stopped by police barricades from going down an access road to Chief Executive Leung Chun-Ying's office.
Police arrested at least five protesters, according to the Hong Kong Federation of Students, one of the groups that have played important roles in organizing the protest movement, which is seeking free elections in the former British colony.
Many in the crowd were wearing surgical masks, hard hats, goggles and construction-style eye protectors. Some were carrying umbrellas -- which have become symbols of the protest movement -- and many were shouting "I want true democracy."
Earlier Sunday, police warned that they would take action to prevent the protesters from surrounding government headquarters. They said in a statement that they would "take resolute enforcement actions" and would "use minimum level of force to stop any violent and illegal acts, so as to uphold the law and order."
Authorities last week used an aggressive operation to clear out the protest camp on the busy streets of Hong Kong's crowded Mong Kok district, one of three protest zones around the semiautonomous city.
The protesters are demanding that the Hong Kong government scrap a plan by China's Communist leaders to use a panel of Beijing-friendly elites to screen candidates for Hong Kong's leader in inaugural 2017 elections.