Honduran Land Dispute Rages as Thousands Occupy Farms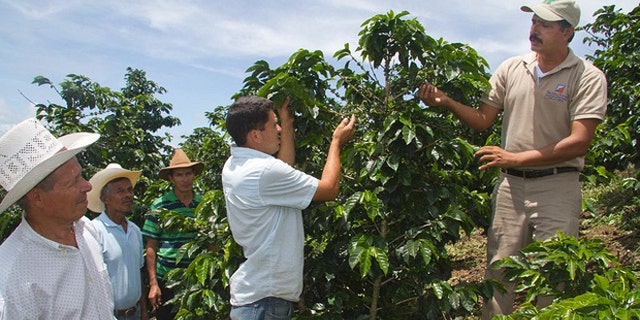 TEGUCIGALPA, Honduras – Several thousand farmworkers in Honduras have taken over 30,000 acres (12,000 hectares) of fields as part of a dispute between the laborers, land owners and the government.
Police and soldiers read an eviction notice later in the day and roughly 1,500 farmworkers peacefully left a large sugar plantation near San Pedro Sula. But at least 10 other farms were still occupied Wednesday night, said Mabel Marqúez, spokeswoman for activist group Via Campesina.
"We expected the eviction from the San Manuel plantation because of the magnitude of the action and we are analyzing what will come next, but we still have at least 10 occupations that remain," Marquez said.
She said that the largest land occupation was at the 6,000 acres (2,500 hectare) San Manuel plantation on the Caribbean coast. The movement also took possession of several farms on the outskirts of the capital, Tegucigalpa, and in the provinces of Cortes, Yoro, Santa Barbara, Intibuca, Choluteca, Camayagua and Francisco Morazan.
Activists say the seized territory is arable public land that small farmers have the legal right to grow crops under Honduran law. The large landowners who have been farming the land say they bought it legally from the government. A land dispute between small farmers and landlords in the northern Aguan Valley has led to dozens of deaths among farmworkers in recent years.
"We want to avoid any type of confrontation," Marquez said earlier Wednesday, adding that the farmworkers were unarmed and used no force.
Activists said they were seeking meetings with government officials to open a national dialogue on land disputes, make clear that the lands were public property and that the farmworkers shouldn't be dislodged. According to United Nations figures, 53 percent of Hondurans live in the countryside and, according to the Economic Commission for Latin America, the residents of 72 percent of rural homes are below the poverty line.
Cesar Ham, director of the National Agrarian Institute, said the land seizures were politically motivated and aimed at destabilizing the government.
Based on reporting by The Associated Press.
Follow us on twitter.com/foxnewslatino
Like us at facebook.com/foxnewslatino