Gun Bust Largest In New York City History, 260 Weapons Seized, Police Say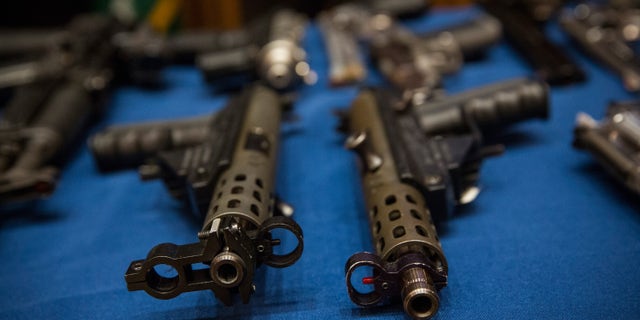 New York – Two men smuggled nearly 260 firearms into New York City over the past year by hiding them in luggage they carried on cheap buses from North and South Carolina, police said.
The bust is considered the largest gun seizure in the city in recent memory.
An undercover city police officer posing as a gun broker brought 254 weapons from the two men in dozens of transactions since last year. One of the guns, a disassembled assault rifle, was transported in a girlfriend's zebra-striped bag, authorities said.
The alleged smugglers, Walter Walker and Earl Campbell, were among 19 people arrested in New York and in North Carolina and South Carolina – states where the guns originated – as the result of a 10-month investigation. Also charged was an aspiring rapper from Brooklyn.
Walker and Campbell were arrested earlier this month by local police in their home states, authorities said. The names of their defense attorneys were not immediately available.
New York Police Department officials and prosecutors announced details of the case on Monday, citing it as another example of a persistent black market in which firearms from the South can sell for three times their original price in the city. New York has some of the nation's strictest gun-control measures and a mayor who has crusaded for tougher laws in other states.
"There is no doubt that the seizure of these guns has saved lives," Mayor Michael Bloomberg said at a news conference.
Wiretap evidence showed that sellers in the Carolinas knew the weapons were destined for New York, said Special Narcotics Prosecutor Bridget Brennan.
"Perhaps the two most disturbing aspects of the gun-trafficking operation were the simplicity of the business model, and the complete indifference of the gun suppliers to the mayhem their actions would cause here in New York City," Brennan said. "The marketing strategy was buy low, sell high and keep a low profile."
The gun case was a spinoff of a drug investigation in Brooklyn that turned up Instagram photos of handguns and wads of cash posted by the rapper. Wiretap and other evidence led investigators to Walker, 29, of Sanford, N.C. and Campbell, 24, of Rock Hill, S.C., who were smuggling guns separately but using the same middleman in New York City, authorities said.
The two tapped a loose network of suppliers in their hometowns, authorities said. Some guns were obtained on the black market, while others were bought from gun dealers using straw buyers to get around one-gun-a-month restrictions.
"The problem is that the gun laws passed now, so it's like now I can only buy a gun from a gun store every 30 days," Campbell complained in one conversation, according to an indictment. "So I had to, like, pay different people to keep buying different guns."
Before heading to New York, Campbell would get photos of the guns his suppliers were offering and send the images to the undercover officer, authorities said. Both defendants would travel to the city carrying a dozen or more handguns, rifles and shotguns in bags that were stowed in luggage compartments of Chinatown-based carriers also favored by drug couriers, investigators said.
One of the discount bus companies charges $60 one-way from Raleigh, N.C., to New York. The fare is about half that charged by Greyhound, which, unlike the Chinatown buses, requires identification for boarding.
Walker met two times last year with the middleman and the undercover officer at the rapper's Brooklyn recording studio to sell the undercover firearms, the indictment said. He also alleged sold weapons to the undercover in April in Manhattan.
In January, the undercover officer met with Campbell and his girlfriend, who was carrying assault rifle parts in her zebra-striped suitcase, authorities said. The girlfriend struggled to assemble the weapon in the backseat of a car by using a YouTube instructional video she called up on her smartphone, investigators said. When she failed, the undercover bought the pieces anyway for $1,100, they said.
Based on reporting by the Associated Press.
Follow us on twitter.com/foxnewslatino
Like us at facebook.com/foxnewslatino