German minister proposes new EU refugee system aimed at capping numbers, bypassing smugglers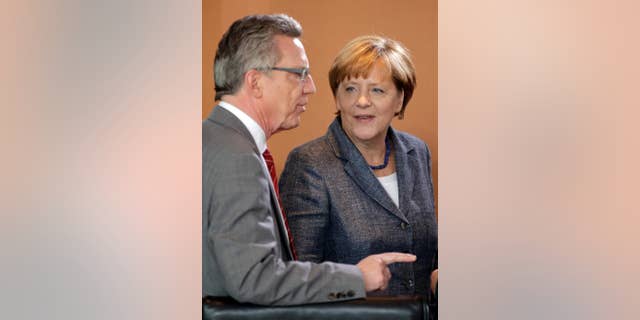 BERLIN – Germany's interior minister is proposing a system under which the European Union would take in a fixed number of refugees directly from crisis-hit areas, thus avoiding smugglers, then send any further asylum-seekers elsewhere.
Germany is the prime destination for those flooding into Europe. It expects at least 800,000 to arrive this year — one official has said possibly 1 million — and is struggling to deal with the influx.
Interior Minister Thomas de Maiziere said Monday his "personal initiative" would see "generous" EU quotas to bring in refugees from crisis-hit regions and spread them around the continent. He said if those are exceeded over the course of a year, people crossing the Mediterranean would be rescued but then taken to "safe regions" outside the continent.
Chancellor Angela Merkel has stressed repeatedly that Germany will take in people fleeing civil wars and persecution, although people arriving for economic reasons must return home. She has said there is no legal limit to the number of asylum-seekers Germany can take.
De Maiziere said his initiative doesn't question that, and people who do seek asylum in Germany would still have their application examined.
"We won't be able to, or want to, shut ourselves off completely in Europe," he said. But "we will not be able to take in all refugees from the whole world, or all those who seek their economic future in Europe, that is also clear."
De Maiziere, a member of Merkel's conservative party, wouldn't specify how large the proposed contingents should be. The idea, first floated in a weekend magazine interview, drew an unenthusiastic response from its center-left coalition partners.
Vice Chancellor Sigmar Gabriel, a Social Democrat, told ARD television Sunday night that it appeared to be "the opposite of what the chancellor has rightly said."
"Setting up contingents for asylum-seekers is not a solution," he said.