German federation president plays down security fears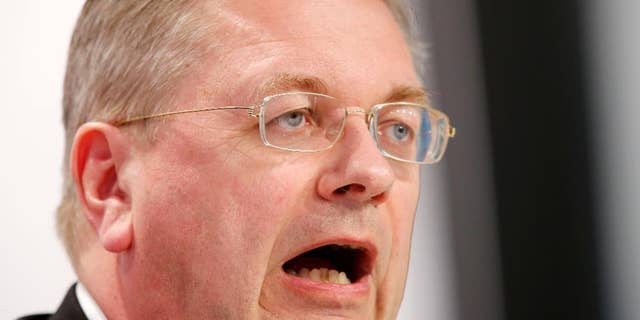 NEWYou can now listen to Fox News articles!
EVIAN-LES-BAINS, France – Security at the European Championship is not a worry for German soccer federation president Reinhard Grindel, even though defender Jerome Boateng reportedly said he would feel safer if his family didn't attend games.
The 27-year-old Boateng, a key player for the World Cup champions at Euro 2016 in France, was quoted as telling Sportbild magazine on Wednesday that his family and children wouldn't come to the stadium because "the risk is too great for me."
"On one hand of course it's sad that you have to deal with such issues. On the other hand many things have happened that make you thoughtful," said Boateng, referring to recent attacks in Paris and Brussels. "I for one just want to concentrate on the football at the European Championship and I feel better if my family is not sitting in the stadium."
Speaking at the German team's tournament base in Evian-les-Bains, Grindel said he respected Boateng's decision but did not want to comment on it.
"That's a question that each and every person must decide for themselves and their family," Grindel said.
"Generally, I can say that as before we're in close contract with the security officials in Germany and have our own good security staff within the DFB. We have trust in the work of the French security officials," said Grindel, who said the DFB was spending 800,000 euros ($900,000) on security at the tournament. "We have taken a raft of security measures in consultation with the German and French security forces, for the team and including around this media center."
A state of emergency is still in force in France after extremist attacks killed 130 people in Paris in November.
"Up to this morning German security officials have no concrete evidence of a threat against Euro 2016," Grindel said. "Our own officials are in the closest cooperation with their French counterparts and I am sure that we'll be informed if the situation should change."