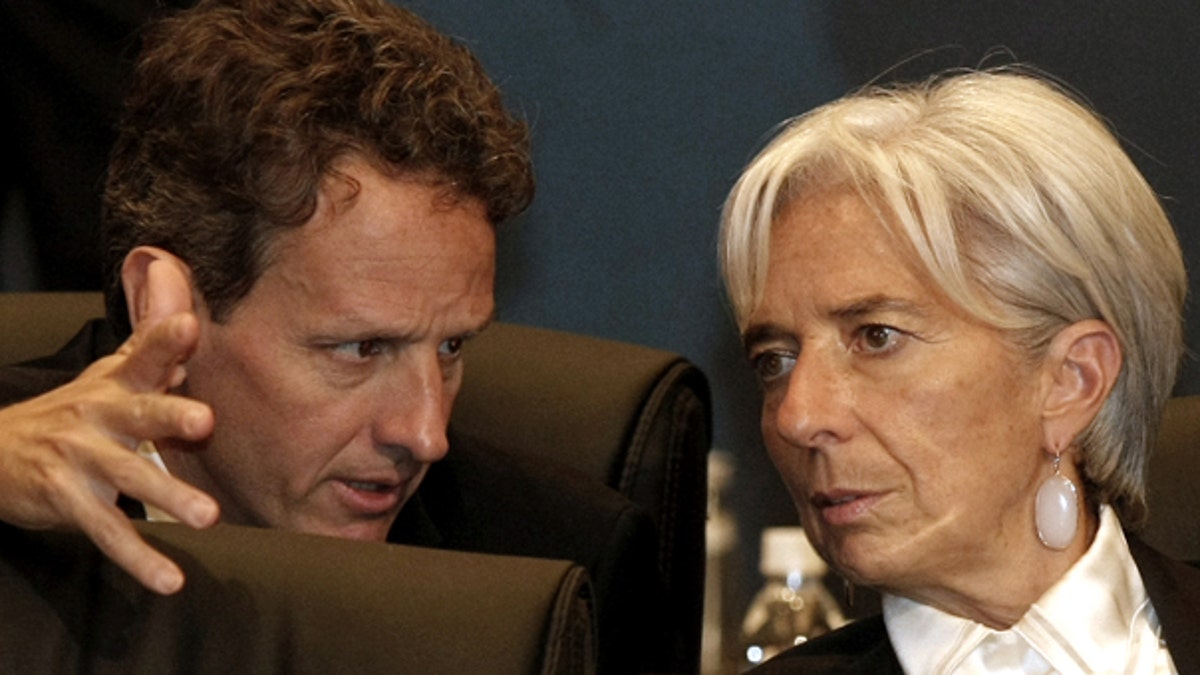 GYEONGJU, South Korea -- The world's leading advanced and emerging countries vowed Saturday to avoid potentially debilitating currency devaluations, aiming to quell trade tensions that could threaten the global recovery.
The Group of 20 also said it will pursue policies to reduce trade and current account imbalances that threaten the economic recovery, and agreed to give developing nations more say at the International Monetary Fund, part of what it described as an ambitious set of proposals to reform IMF governance.
The grouping, which accounts for about 85 percent of the global economy, said in a statement that it will "move towards more market determined exchange rate systems" and "refrain from competitive devaluation of currencies."
The agreement comes amid fears that nations were on the verge of a so-called currency war in which they would devalue currencies to gain an export advantage over competitors -- causing a rise in protectionism and damaging the global economy.
"Our cooperation is essential," the statement said. "We are all committed to play our part in achieving strong, sustainable and balanced growth in a collaborative and coordinated way."
The agreement, which includes no specific numerical commitments, appeared to be a step forward from a similar meeting two weeks ago in Washington when finance officials failed to resolve differences.
U.S. Treasury Secretary Timothy Geithner praised the results, calling them part of necessary changes in how the global economy operates.
"If the world economy is going to be able to grow at a strong, sustainable pace in the future, if we're going to be successful in building a more stable global financial system, and if we're going to be able continue to expand opportunities for trade and preserve an open trading system, then we need to work to achieve more balance in the pattern of global growth as we recover from the crisis," he told reporters.
Geithner had pushed in a letter to G-20 members for a commitment to polices that would reduce current account and trade imbalances "below a specified share" of gross domestic product "over the next few years."
But the G-20 statement said that large imbalances -- such as China's vast trade surplus with the rest of the world -- would be "assessed against indicative guidelines to be agreed." Geithner's proposal had drawn resistance from export-reliant countries such as Japan.
Geithner, however, said Saturday that the U.S. was not pushing for any specific quantitative targets and that the country's stance found substantial support within the G-20.
Japanese Finance Minister Yoshihiko Noda, who on Friday called the idea of any specific targets "unrealistic," urged a cautious approach to any specific numbers, though he expressed support for "guidelines."
"There are many perspectives on the current account issue," he said. "Every country has a different situation when it comes to surpluses and deficits. So we need to study this carefully."
Nations in Asia and other regions have been trying to limit the strength of their currencies amid a sustained weakness of the U.S. dollar out of fear their exports will become less competitive in world markets. At the same time, China's currency has been effectively pegged to the dollar, provoking an outcry that it is being kept artificially low and giving China's exporters an unfair advantage.
A shift for Asian nations to become less reliant on exports for growth is seen as one of the adjustments that countries should make in the wake of last year's downturn to ensure more stability in the global economy and markets. Stronger currencies, meanwhile, would make imported goods cheaper and boost domestic spending as a contributor to economic growth.
The G-20, which has been around since 1999 and includes both rich and emerging countries, assumed the role of global economic leader following the financial crisis. The Group of Seven advanced nations faced criticism that it was too narrow a forum and failed to represent the voices of China and other fast-growing countries such as India.
Since the crisis, the G-20 has pursued major reforms to the global economy and financial system, such as attempting to coordinate economic and interest rate policies to spur growth and forge stricter regulation of banks and other financial institutions seen as responsible for the meltdown.
The meetings come ahead of a G-20 summit in Seoul set for Nov. 11-12 when leaders will consider the agreements reached by the finance officials as well as other proposals for strengthening the global economy.
Canadian Finance Minister Jim Flaherty praised the commitments on currencies.
"Those are accomplishments," he said, but added that there is "more work to do between now and Seoul on this issue," referring to the upcoming G-20 summit.