G-20 leaders finalize details of growth plan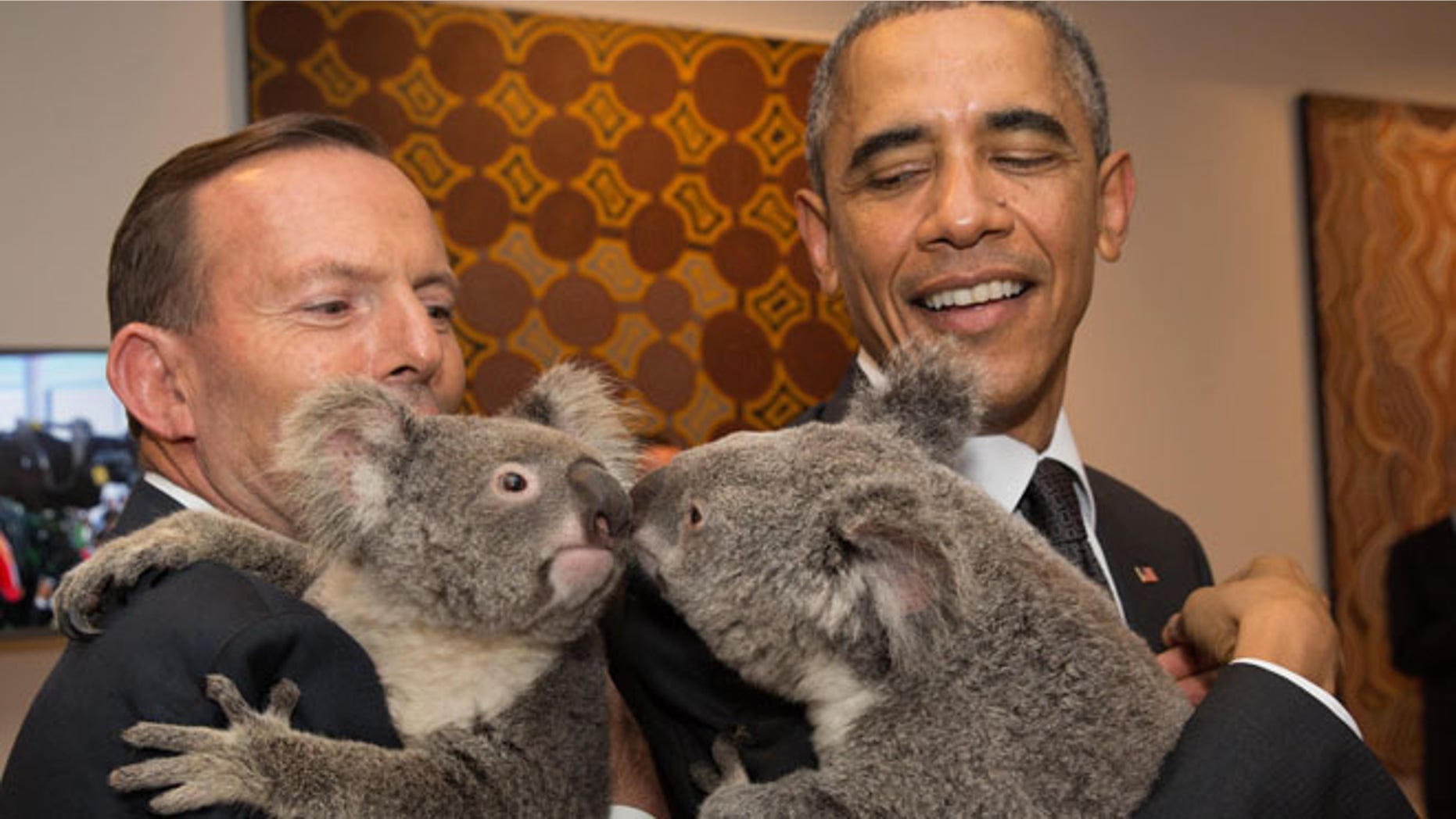 BRISBANE, Australia – World leaders on Sunday prepared to release details of a plan aimed at injecting life into the listless global economy, with infrastructure investment and the lowering of trade barriers flagged as key components of the initiative.
Leaders of the world's 20 largest economies, wrapping up a two-day gathering in the Australian city of Brisbane, were hammering out details of a plan to boost global GDP by more than 2 percent above expected levels over the next five years, which amounts to around $2 trillion.
"That is millions of jobs and trillions of dollars in extra production," Australian Prime Minister Tony Abbott said in an address to the G-20 conference. "Yes, we want freer trade and we will deliver it. Yes, we need more infrastructure and we will build it."
G-20 nations, which represent 85 percent of the global economy, are under pressure to take definitive action at this year's summit, rather than simply producing a set of vague, unmeasurable goals.
The final communique, to be issued later Sunday, will be based on individual plans submitted by each G-20 country, outlining how they will achieve their contribution toward the growth target. World GDP this year is about $77 trillion.
Australian Treasurer Joe Hockey said the group's strategies include 1,000 measures that will lift infrastructure investment, increase trade and competition, cut red tape and increase employment.
The growth target is expected to be the headline from the communique, but experts warned that the leaders would need to comply with every one of those 1,000 measures to achieve the 2 percent target -- a virtually impossible task, given the difficulties they will inevitably face in pushing some of the initiatives through in their home countries.
"There are two questions: whether the specifics are credible and whether the political backing by leaders is convincing," said Thomas Bernes, a fellow with the Center for International Governance Innovation, a Canadian-based think-thank.
In between official talks, leaders have taken time to enjoy snippets of Aussie culture. A photo of a smiling Abbott and Russian President Vladimir Putin standing side-by-side while holding koalas was a rare lighthearted moment in an otherwise frosty atmosphere surrounding the Russian leader's presence. Putin has come under fire from several leaders at the summit over the escalating conflict between Russia and Ukraine.
Although Abbott has sought to keep the summit tightly focused on the growth plan, he has faced pressure to add issues such as the Ebola crisis in West Africa and climate change to the agenda.
On Saturday night, the leaders issued a statement on Ebola, urging countries that haven't donated to efforts to combat the disease to do so now, and to send medical teams. The group also said researchers, regulators and drug companies needed to work harder to develop vaccines and treatments.
Climate change is a sensitive issue for Abbott, a skeptic who rose to power on the promise of axing a hated carbon tax on the nation's worst polluters. But despite his resistance to adding the issue to the agenda, Bessma Momani, a fellow with the Center for International Governance Innovation, thinks it will garner at least a brief mention given that several leaders, including President Barack Obama, pressed to have it taken up.
Obama pointedly used part of a speech on Saturday to announce a $3 billion commitment by the U.S. to a global climate fund, and also highlighted a climate deal the U.S. struck with China days earlier in Beijing.
Outside the convention center where the summit is taking place, thousands of protesters braved a scorching heat wave and a labyrinth of roadblocks to stage rallies demanding everything from action on climate change to banning Putin from the gathering.
The protests have been largely peaceful, with only a handful of arrests. An Associated Press photojournalist saw police take two gas masks and a pocket knife out of two activists' bags before escorting them away. Knives and gas masks are on a lengthy list of banned items in the city this weekend; prohibited items also include eggs, guns, kites and reptiles.
Six thousand police officers were on duty to maintain order, many dumping bottles of water on themselves to cope with temperatures that are expected to reach 104 degrees Fahrenheit on Sunday.
Tax avoidance by big, multinational companies was expected to be high on the agenda, particularly in light of the recent leak of documents suggesting that hundreds of big companies such as Pepsi and IKEA had organized tax-lowering deals with Luxembourg.