Former Libyan Official: Qaddafi's Inner Circle Too Scared to Leave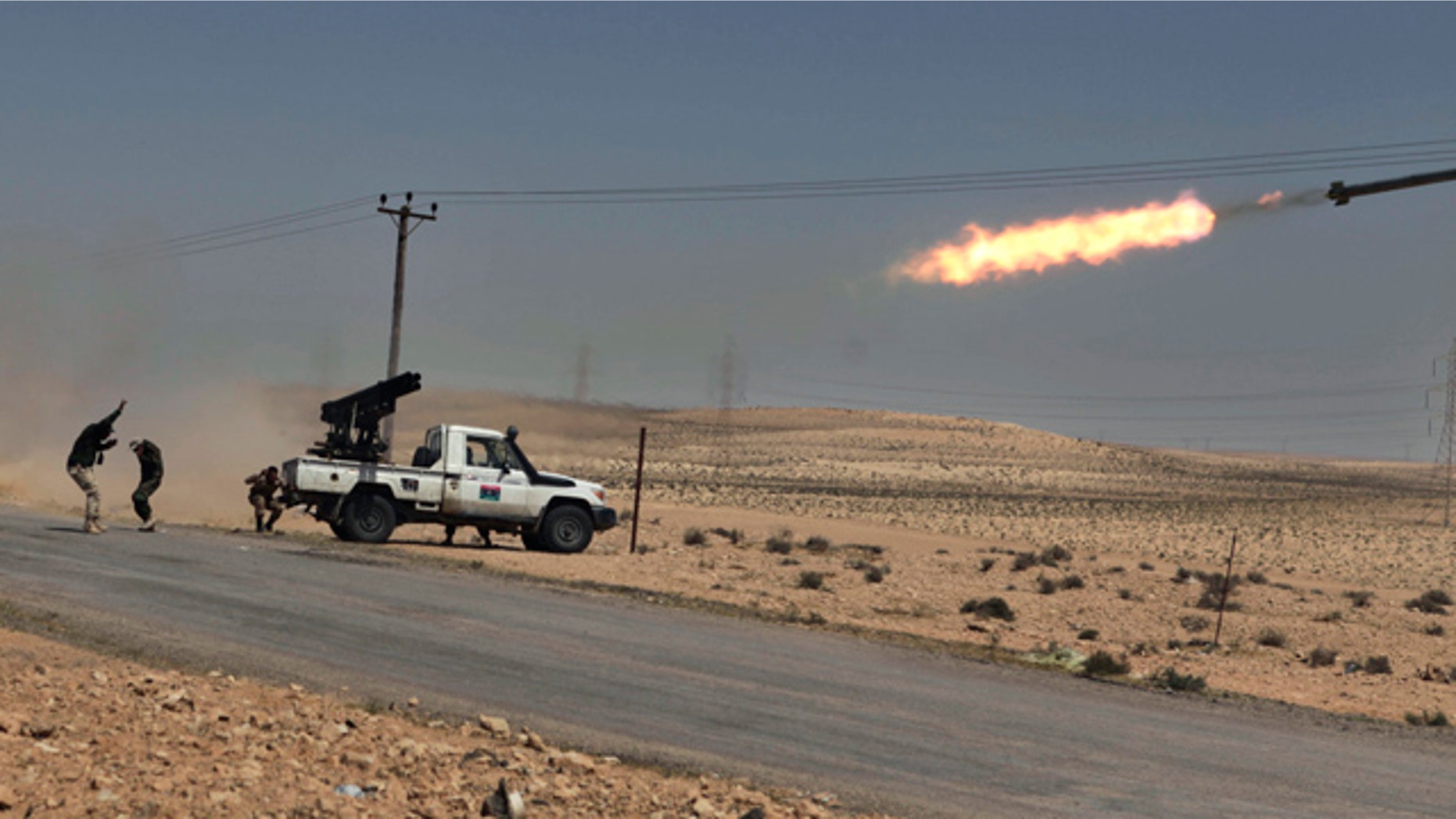 LONDON -- Libya's former-energy minister said Wednesday that several members of Muammar Qaddafi's inner circle want to defect, but many are too scared to abandon the dictator fearing the safety of themselves and their families.
Omar Fathi bin Shatwan, who also served as industry minister, told the Associated Press that he had fled by fishing boat to Malta on Friday from the western Libyan city of Misrata.
Shatwan, who left the government in 2007, said he still had contact with some government figures and explained that many feared for their safety. In some cases, their families are under siege, he said.
"Those whose families are outside Libya will flee if they get a chance," Shatwan said. "But many can't leave, and all the families of ministers are under siege."
Shatwan said he had last had contact with Qaddafi in 2006, and had not spoken with the tyrant's sons since leaving office. "Ministers who are friends of mine, I have spoken to them," he said.
The 59-year-old said he had spent 40 days at his home in Misrata before escaping from Libya, and witnessed Qaddafi's forces pounding the city with heavy artillery and relentlessly shooting civilians.
"There has been a big bombardment and there is total destruction," Shatwan said, speaking by telephone from Malta. "After this, they occupied some streets with tanks, and put snipers in the buildings."
He said Qaddafi's forces -- which he said were mainly foreign mercenaries led by a small number of Libyans -- had fired on civilians indiscriminately inside Misrata.
Shatwan described tanks rolling along the city's Tripoli Street -- a major thoroughfare -- and regime soldiers turning their weapons on anyone in the vicinity. "They have killed a lot of civilians, whether they are in cars, or are moving targets -- they just shoot at them," he said.
He claimed that local people had been fired on as they attempted to rush to safety, and that regime soldiers had wildly discharged their weapons inside the city.
"I think the regime is just going mad," Shatwan said. "Col. Qaddafi has changed. No one would kill people in the streets in this way."
Shatwan said his own home was struck four times during shelling by Qaddafi's forces. He said he believed at least one attack had involved cluster munitions. "I counted the holes myself -- there were 250 holes in the walls of my house. There were so many holes because of the types of weapons they're using," he said.
He estimated at least 1,500 people are dead or wounded in Misrata, but said it is almost impossible to know the precise death toll
"I think nobody knows the exact figure yet, but I can tell you that more than 1,500 people are injured or dead. There are a lot of people missing, some people have been kidnapped by the Qaddafi regime," Shatwan added.
Shatwan was first appointed to Qaddafi's government in 1987 as industry minister, and held several portfolios until he left the regime in 2007, including a spell as energy minister between 2004 and 2006.
He said he has since worked as an academic in Tripoli, and retained some links to Libya's ruling elite.
"At the beginning Qaddafi's regime was good -- the first 10 years saw vast improvements, the middle 20 years less so, and the last 10 years have seen terrible decline," Shatwan said.
The ex-minister said his own departure from the government was likely linked to his criticism of declining investment in education and other sectors.
He said he believed the majority of Libyans believed Qaddafi's ouster was drawing close -- and that the regime would need to leave the country, not simply quit office.
"There is no future for Qaddafi or his sons to stay in Libya, not just not to govern," he said. "Qaddafi cannot last in power."
He said that the international community should have acted to remove Qaddafi weeks ago, rather than hope that Libya's opposition would be able to topple the regime themselves.
Shatwan urged NATO to step up its military campaign. "The West should act quickly to finish the job, before there are a lot more people dead," he said. "The best solution in the first place would've been for the international community to arrest him, or to help the opposition to do that."
He said Libyans believed the tempo of air assaults against Qaddafi's troops has slowed since NATO took over charge of the international mission from the U.S. last week.
"Since NATO has been in charge, it has been a disaster," Shatwan said. With a more vigorous campaign of airstrikes, Libya's opposition "could finish him in less than 10 days," he claimed.
"Libya would be a decent, civilized state with very good relations with the people who helped us to topple him," Shatwan said.
He also insisted that he had seen no evidence of extremists taking a lead within the rebel forces.
The top NATO commander, U.S. Navy Adm. James Stavridis, said last week he had seen "flickers" of al-Qaida and Hezbollah among the rebels.
"It's completely wrong to say there are al-Qaida in the opposition, there is no al-Qaida in Libya," Shatwan said.
Britain's Middle East minister Alistair Burt also said Wednesday that the U.K. had no evidence that Libya's opposition has ties to violent extremists.
"We have no details of the involvement in the Libyan internal opposition movement of individuals with a background in violent political activities or international terrorism in Afghanistan or Iraq," Burt said, in a written answer to a Parliamentary question published Wednesday.
Shatwan confirmed he has held talks with European diplomats in Malta, to offer his account of Qaddafi's faltering regime.
The ex-energy chief also said he believed that Libya's opposition will be able to begin exploiting the country's lucrative oil fields. He said there had been only limited, and easily repairable damage, to oil installations and ports.
"It will be no problem to begin production, and to export oil again," Shatwan said.