For 1st time in 13 years, Afghanistan not on NATO defense minister's meeting agenda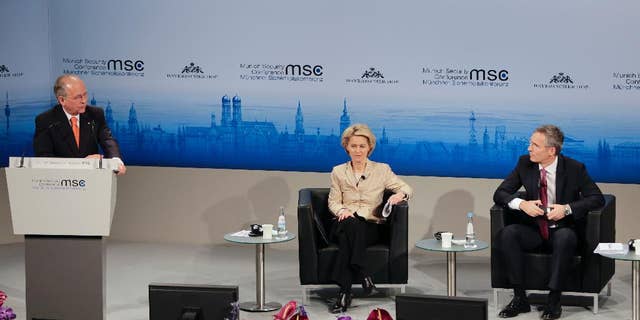 BRUSSELS – The war in Afghanistan is in NATO's rearview mirror.
For the first time in 13 years, the conflict was not on the meeting agenda as the alliance's defense ministers gathered in Brussels Thursday.
Instead NATO members focused on the latest military conflicts facing the alliance — the threat of Islamic extremists flowing out of North Africa and the Russian-backed separatists battling Ukraine's government forces along the country's eastern border.
One reason the Afghanistan war was not included on the agenda, according to U.S. officials, was that the fledgling government in Kabul has yet to appoint a new defense minister. So there was no local minister to provide allies with an update.
Also missing from the NATO session was the top U.S. military commander in Afghanistan, Army Gen. John Campbell. As generals have rotated through the job, they have been a constant presence at these meetings. But his absence in Brussels was still another reminder of how much things have changed, and that the war has slid down NATO's priority pole.
The U.S now has only slightly more than 10,500 troops in Afghanistan, down from more than 100,000 at the war's peak. And there are only few thousand troops from a handful of other coalition nations participating in Operation Resolute Support, which is aimed at advising and assisting the Afghan forces.
The number of U.S. troops is currently slated to drop to about 5,000 by the end of this year, and all forces will be out by at the end of 2016.
U.S. Air Force Gen. Philip Breedlove, the top NATO commander, told reporters the U.S. plan to reduce its forces in Afghanistan to less than 10,000 is very close to completion. He said that allied troops, who were delayed in their arrival in Afghanistan, are now almost all in.
But while the U.S. and NATO combat mission in Afghanistan is largely over, the war there has not stopped.
"We should not expect that we would not have soldiers in harm's way and even soldiers that may be injured or lost," said Breedlove. "We have a non-combat mission in a combat zone and the war goes on."
Also, there are U.S. troops, including special operations forces, who continue to conduct counterterrorism operations there.
Looking ahead to the coming summer fighting season, Breedlove said the insurgents will "try to prove that the Afghans are not capable" as NATO forces leave.
He said U.S. commanders are concerned that as the NATO troops come out, there will be areas where the insurgents will have more freedom to move around and conduct attacks, and the Afghans will have to be ready to counter that. So far, Breedlove said, the insurgents have not been able to gain and hold new ground.