Flu Outbreak Prompts CDC Action To Get More Latinos Vaccinated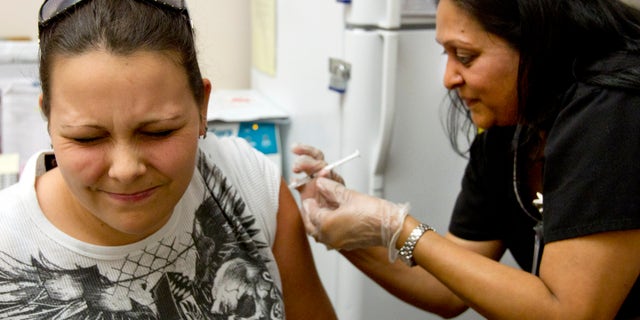 While the country shivers -- alarmed with the most aggressive and widespread flu outbreak in years -- officials are making a special appeal to Latinos: It is not too late to get vaccinated.
"The perfect time is now, we have months to go until April," Eduardo Azziz-Baumgartner, a medical epidemiologist with the Influenza Division of the Centers for Disease Control, told Fox News Latino.
So far health officials blame the flu for the deaths of 20 children nationwide.
New information released Friday shows widespread influenza activity has reached as many as 47 states, a significant increase from 31 states two weeks ago. Among the worst hit are some states with a high Latino population -- such as Texas, New York, New Jersey, Florida, Illinois and New Mexico.
Azziz said the CDC is redoubling efforts to reach out to Latino families, which tend to be more reluctant than other ethnic groups to seek preventive measures. While statistics are not yet available for this year, during the last flu season only 39 percent of Latino adults received the flu shot, compared to 49 percent of non-Hispanic whites.
"Hispanics have less access to medical care and they tend to believe that they don't need to get vaccinated," he said. For reasons including cultural background, "it is usually challenging to have them understand the benefits of getting vaccinated," he said.
According to Azziz, the strategy that works is warning parents of the risks to their loved ones. "A lot of Latinos respond to an appeal to protect their families," he said. "So we tell them that getting the flu shot is actually a way of protecting their children" and other people at high risk such as pregnant women, adults 65 and older and people with asthma or diabetes.
CDC data shows the proportion of people visiting health care providers with flu-like symptoms climbed from 2.8 percent to 5.6 percent in the last month. By contrast, the rate peaked at only 2.2 percent during the relatively mild 2011-12 flu season.
Flu seasons are unpredictable in a number of ways, experts say. Although flu epidemics happen every year, the timing, severity, and length of the epidemic depends on many factors, including what influenza viruses are spreading, whether they match the viruses in the vaccine and how many people get the vaccine.
While the CDC doesn't know the exact number, it estimates that 24,000 Americans die each year from the flu.
Flu usually peaks in midwinter. Symptoms can include fever, cough, runny nose, head and body aches and fatigue. Some people also suffer vomiting and diarrhea, and some develop pneumonia or other severe complications.
Follow us on twitter.com/foxnewslatino
Like us at facebook.com/foxnewslatino