Florida Valedictorian Wins Deportation Fight - For Now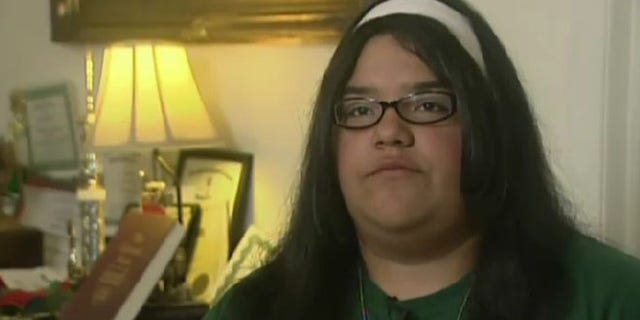 The valedictorian of a Florida high school who was close to being deported has won a reprieve from the Department of Homeland Security, which is deferring action for two years.
Attorney Nera Shefer's office received notification from the Department of Homeland Security Tuesday that Daniela Pelaez was given a deferred action for two years.
Pelaez, 18, came to the United States from Colombia with her family when she was four years old. She has applied to several Ivy League universities and wants to become a surgeon. She has a 6.7 grade point average.
A judge denied her request for relief from deportation last Monday.
Students at North Miami High School rallied around her, holding a protest over the judge's decision and an online petition that collected thousands of signatures. The protest drew more than 2,600 students, teachers and community members who held banners and chanted "Justice for Daniela," according to the Miami Herald.
Miami Valedictorian Continues Fight Against Deportation Order
Press reports said the turnout in support of Pelaez was one of the largest immigration protests in South Florida since President George W. Bush first proposed the legalization of millions of undocumented immigrants in 2004.
She is also supported by Republicans Sen. Marco Rubio and Rep. Ileana Ros-Lehtinen.
Pelaez became a flashpoint of the raging national, years-long debate over what to do with the many undocumented youths across the country who were brought illegally by adults, grow up in the United States, and face deportation or encounter barriers when they try to go to college.
Fox News Latino Poll: Latino Voters Support the DREAM Act
Efforts to pass legislation, called the DREAM Act, to allow such youths a chance to legalize their status if they meet a strict set of criteria -- including graduating from high school, then either attending college or serving in the military -- have failed to pass in Congress.
The Obama Administration last year said it would overhaul the deportation process to prioritize tracking down and expelling undocumented immigrants who have criminal backgrounds or pose a threat to national security. The administration, which is rolling out the new deportation approach in phases, said it would review the deportation cases of other undocumented immigrants, including those brought to the country as children and who had no say in the decision to come to the United States illegally.
Larry Jurrist, a school administrator, told WSVN that he would like to see Pelaez continue her education in the United States.
"She has a brother who's been serving for two years in Afghanistan and Iraq, so here's her brother out defending the country, and a judge telling her, 'Oh, but you don't deserve to be here,'" he said to the station.
"It doesn't make any sense."
Pelaez says she is excited by the Department of Homeland Security's action, but that it is also bittersweet because it is a temporary solution.
This story contains material from The Associated Press.
Follow Elizabeth Llorente on Twitter: @Liz_Llorente
Elizabeth Llorente can be reached at elizabeth.llorente@foxnewslatino.com
Follow us on twitter.com/foxnewslatino
Like us at facebook.com/foxnewslatino