Flight Disruptions in Europe Get Even Worse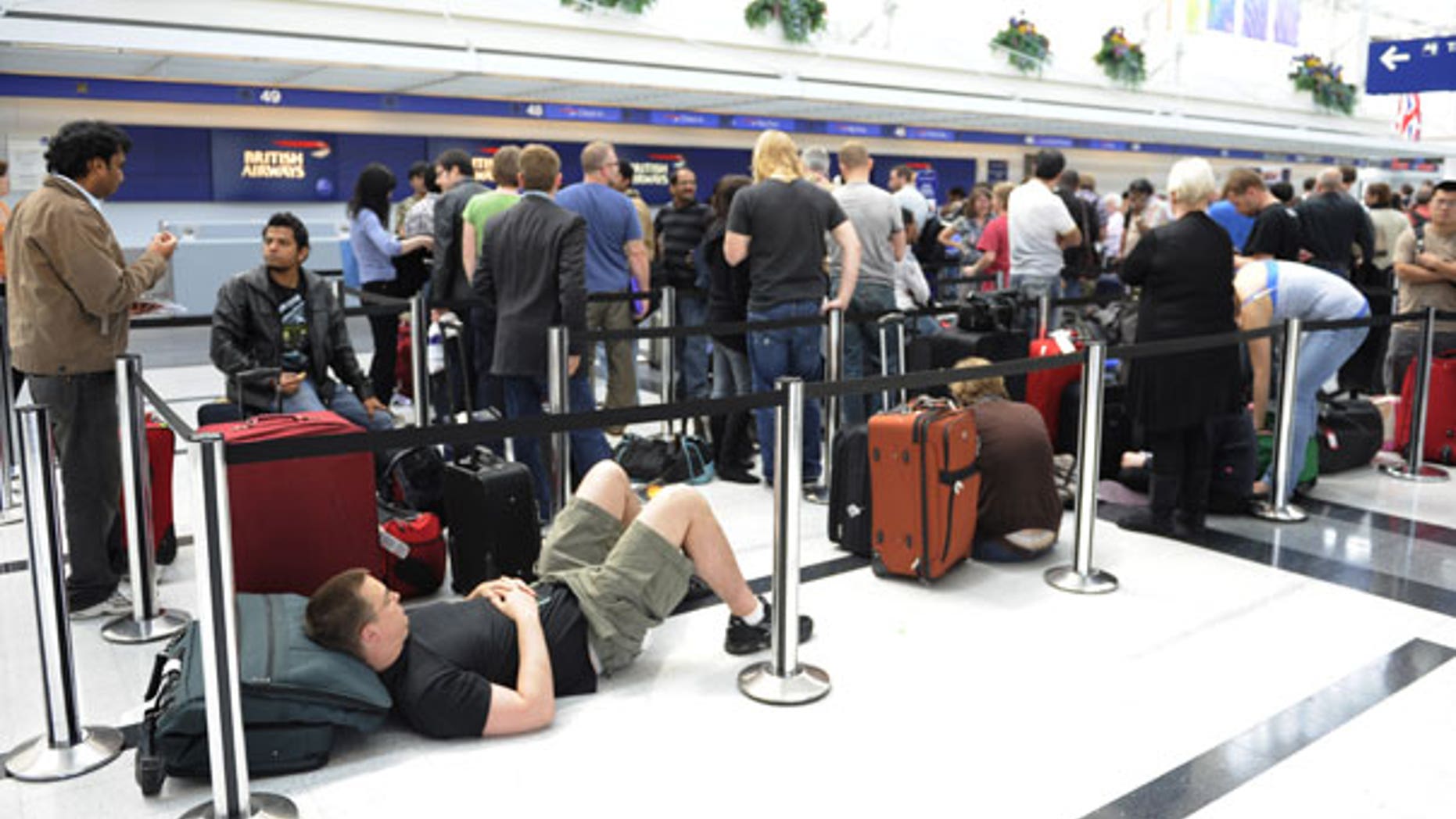 LONDON - Ash from an erupting volcano blanketed the ground in Iceland on Friday and left a widening trail of grounded aircraft across Europe, as thousands of planes stayed on the tarmac to avoid the hazardous cloud.
Eurocontrol, the European air traffic agency, said the flight disruptions that upended travel in Europe and reverberated throughout the world would become even worse on Friday. Half a dozen European nations have closed their air space -- and the delays will continue into Saturday, it said.
"We expect around 11,000 flights to take place today in European airspace. On a normal day, we would expect 28,000," said Kyla Evans, a spokeswoman for Eurocontrol. "The cloud of volcanic ash is continuing to move east and southeast."
Ice chunks the size of houses tumbled down from a volcano beneath the Eyjafjallajokull glacier Thursday, as hot gases melted the ice. The volcano began erupting Wednesday for the second time in less than a month.
As torrents of water and ice chunks roared down the mountain, about 40 people near the volcano in southern Iceland were evacuated because of flash flooding, a smaller number than emergency officials initially reported. Further floods from melting waters are expected as long as the volcano keeps erupting, said Rognvaldur Olafsson of the Civil Protection Department.
The ash cloud, drifting between 20,000 feet and 36,000 feet high and invisible from the ground, left tens of thousands of travelers stranded around the globe and blocked the main air flight path between the U.S. east coast and Europe.
Fearing that microscopic particles of highly abrasive hash could endanger passengers by causing aircraft engines to fail, authorities shut down air space over Britain, Ireland, France, Denmark, Norway, Sweden, Finland and Belgium. That halted flights at Europe's two busiest airports -- Heathrow in London and Charles de Gaulle airport in Paris -- as well as dozens of other airports, 25 in France alone.
As the cloud moved east, flights were halted Friday at Frankfurt airport, Europe's third-busiest terminal, and at 10 other German airports including Duesseldorf, Berlin, Hamburg and Cologne.
Poland expanded its no-fly zone to most of the country, excluding the southern cities of Krakow and Rzeszow.
No more than 120 trans-Atlantic flights reached European airports Friday morning, compared to 300 on a normal day, said Eurocontrol's Evans. About 60 flights between Asia and Europe were canceled Friday, stranding several thousand passengers.
Some European countries reported a slight easing of conditions.
The French Civil Aviation said it will allow some planes to land at the three Paris airports during a four-hour window starting at noon Friday.
Sweden and Norway declared skies in the far north to be safe again for travel even as flights in both capitals -- Stockholm and Oslo -- were still on a lockdown. Civil aviation authorities in Ireland lifted most restrictions the country's airspace, reopening airports in Dublin and Cork.
Anxious Polish officials worried that the ash cloud could threaten the arrival of many world leaders for Sunday's state funeral of President Lech Kaczynski and his wife, Maria, in the southern city of Krakow.
Among those who said they would come are President Barack Obama, Russian President Dmitry Medvedev and German Chancellor Angela Merkel. Poland closed most of its airspace on Friday, but said a postponement of the funeral would be an absolute last resort.
Late Thursday, the White House said Obama still planned to fly to Poland on Saturday for the funeral.
ATS, the private company which controls British air space, said the air over England would remain closed at least until 1 a.m. Saturday (0000 GMT) but that some international flights might be allowed into Northern Ireland and western Scotland later in the day.
One Toronto-bound flight departed from Glasgow, Scotland on Friday morning and three Thomson Airways international flights were cleared to land.