Fighting Between Qaddafi Forces, Opposition Escalates in Rebel-Held City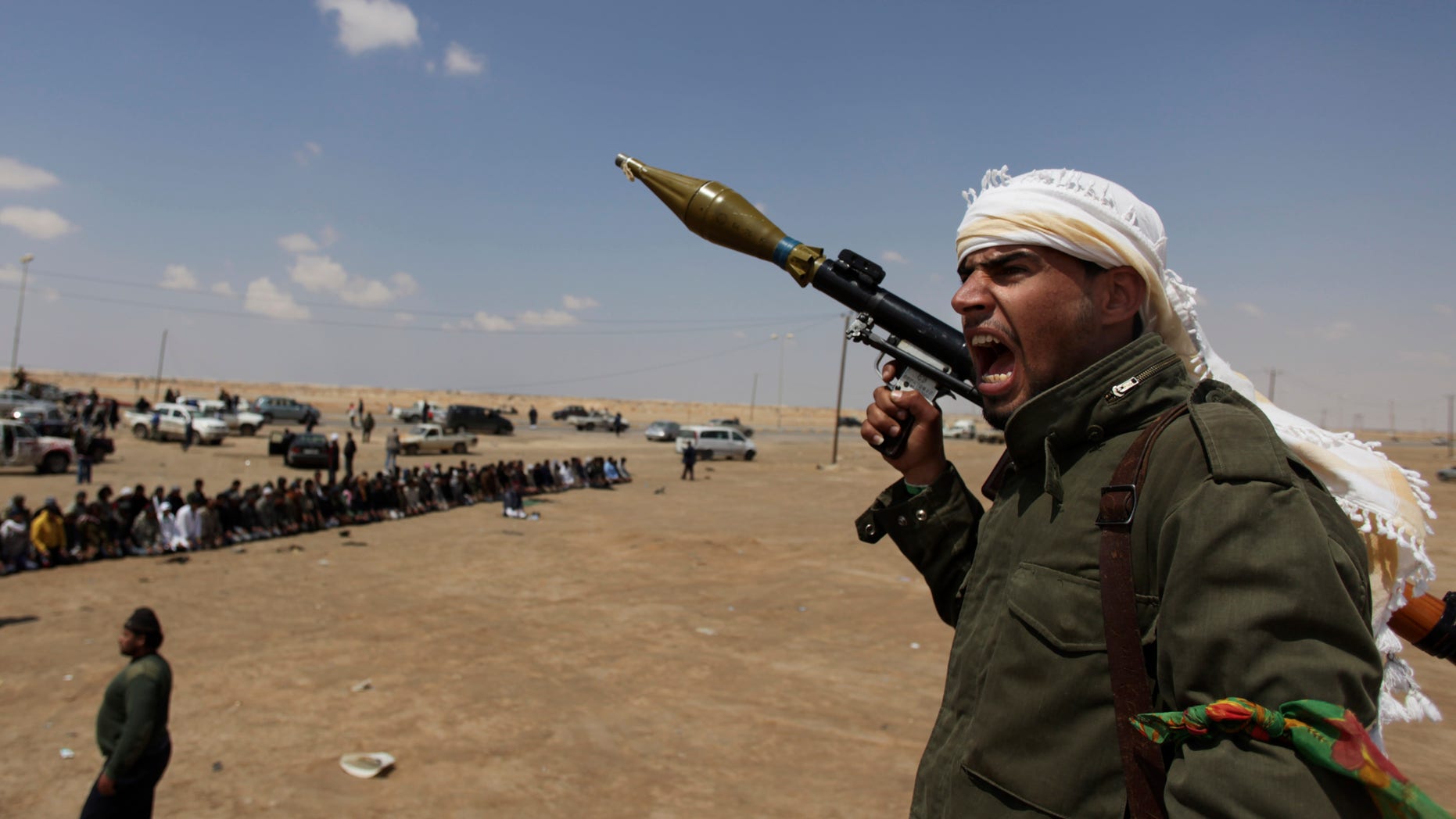 BENGHAZI, Libya -- Anti-government fighters battled forces loyal to Muammar al-Qaddafi in fierce clashes Friday in the only major rebel-held city in western Libya as international relief efforts were stepped up for civilians caught in the crossfire.
Heavy shelling was heard at nightfall outside the city, where some neighborhoods have been nearly abandoned after residents fled to safer areas during weeks of fighting. Nearly all buildings were pockmarked from gunfire.
It was unclear which side had the upper hand. But a witness said rebel forces were trying to keep Qaddafi's troops from taking full control of a route linking central Misrata to its port, a critical lifeline for ships carrying humanitarian supplies into the battle zone just 100 miles southeast of the capital Tripoli.
In the rebel stronghold of Benghazi in eastern Libya, meanwhile, angry crowds fired into the air and chanted against Qaddafi's regime as militiamen killed in an accidental NATO airstrike were carried for burial.
"The martyrs' blood is not shed in vain!" cried some of the thousands of people gathered in central Benghazi to pray and mourn some of the dead from the attack on rebel tanks and vehicles.
The main clashes appeared in Misrata, where the outcome is symbolically significant for both sides. Rebels want to retain an important foothold in Qaddafi's territory and his government seeks to consolidate its control over the west with NATO airstrikes bearing down.
But NATO has been cautious about waging bombing runs in Misrata because the fighting in mostly within civilian areas. Growing indications of a drawn-out conflict in an OPEC nation pushed oil prices to levels not seen in more than two years ago.
The witness' account could not be independently verified. There also were no credible reports on casualties.
Government forces have blocked journalists from doing independent reporting in Misrata, but some reporters have managed to enter by sea in past weeks. The Associated Press was among a group of journalists taken to Misrata on Friday by government minders.
In Geneva, the U.N. children's agency said snipers have targeted children in Misrata. UNICEF spokeswoman Marixie Mercado told reporters that the agency has received "reliable and consistent reports of children being among the people targeted by snipers in Misrata."
She was unable to say how many children have been wounded or killed by snipers in Libya's third-largest city.
A ship from the U.N.'s World Food Program reached Misrata on Thursday, delivering 600 tons of food as well as medical supplies. The food, including flour, vegetable oil and high energy biscuits, are enough to feed 40,000 people for a month, the Rome-based WFP said in a statement.
A vessel chartered by the International Committee of the Red Cross is expected Saturday, and a Turkish charity planned to send an aid ship to the city next week.
In Benghazi, the leader of Friday prayers called for unity against Qaddafi as the opposition buried some of the fighters killed in NATO's bungled airstrike. At least five fighters were killed and more than 20 injured.
"He must be toppled," said Ghaith al-Fakhri, head of the Sharia department at Garyounes University.
Rebels worry that pro-Qaddafi troops may have used the chaos after the NATO bombing to move closer to the small but strategic town of Ajdabiya, which rebels are desperate to hold to avoid opening roads to the opposition's headquarters in Benghazi and Tobruk near the Egyptian border.
In Naples, Italy, the deputy commander of the NATO operations in Libya acknowledged that coalition forces mistakenly hit the rebel tanks outside Ajdabiya. But he noted that the alliance had no information that the rebels were now using tanks that once belonged to Qaddafi's military.
"The situation on the ground was and remains extremely fluid, and until yesterday we did not have information that (rebel) forces are using tanks," British Rear Adm. Russell Harding told reporters in Naples where the alliance's operational center is located.
Harding said Friday that NATO jets had conducted 318 sorties and struck 23 targets across Libya in the past 48 hours.
Over the past week, Qaddafi's forces have switched tactics by leaving their heavy armor behind and using only light trucks armed with heavy machine guns and fast-firing anti-aircraft cannons on the front lines between Brega and Ajdabiya.
These have proven very effective in disrupting repeated rebel attempts to push west toward the capital Tripoli, but Qaddafi's forces have not been able to drive the rebels back toward Benghazi or establish a solid front line.
Outside Ajdabiya, rebel fighters slapped peach-colored paint on their vehicles to try to distinguish from the pro-Qaddafi units.
"We are painting the trucks so NATO won't hit us," said Salam Salim, a 29-year-old rebel militiaman.
Tensions between the rebels and NATO were flaring even before the latest accident, with the fighters criticizing the alliance for doing too little to help them.
A NATO official, meanwhile, said there is growing frustration with the rebels' perception that NATO is acting as their proxy air force. The U.N. mandate calls only for international air power to enforce a no-fly zone and prevent attacks on civilians -- although Qaddafi's ground forces remain a primary target.
"We're trying to get messages back to them about what we're doing and what we're trying to achieve," said the official, who spoke on condition of anonymity under standing NATO regulations.
Last week, NATO took control over the international airstrikes that began March 19 as a U.S.-led mission. The airstrikes thwarted Qaddafi's efforts to crush the rebellion he has ruled for more than four decades, but the rebels remain outnumbered and outgunned and have had difficulty in making headway into government-held territory.