FIFA admits 2018 World Cup workers suffered human rights abuses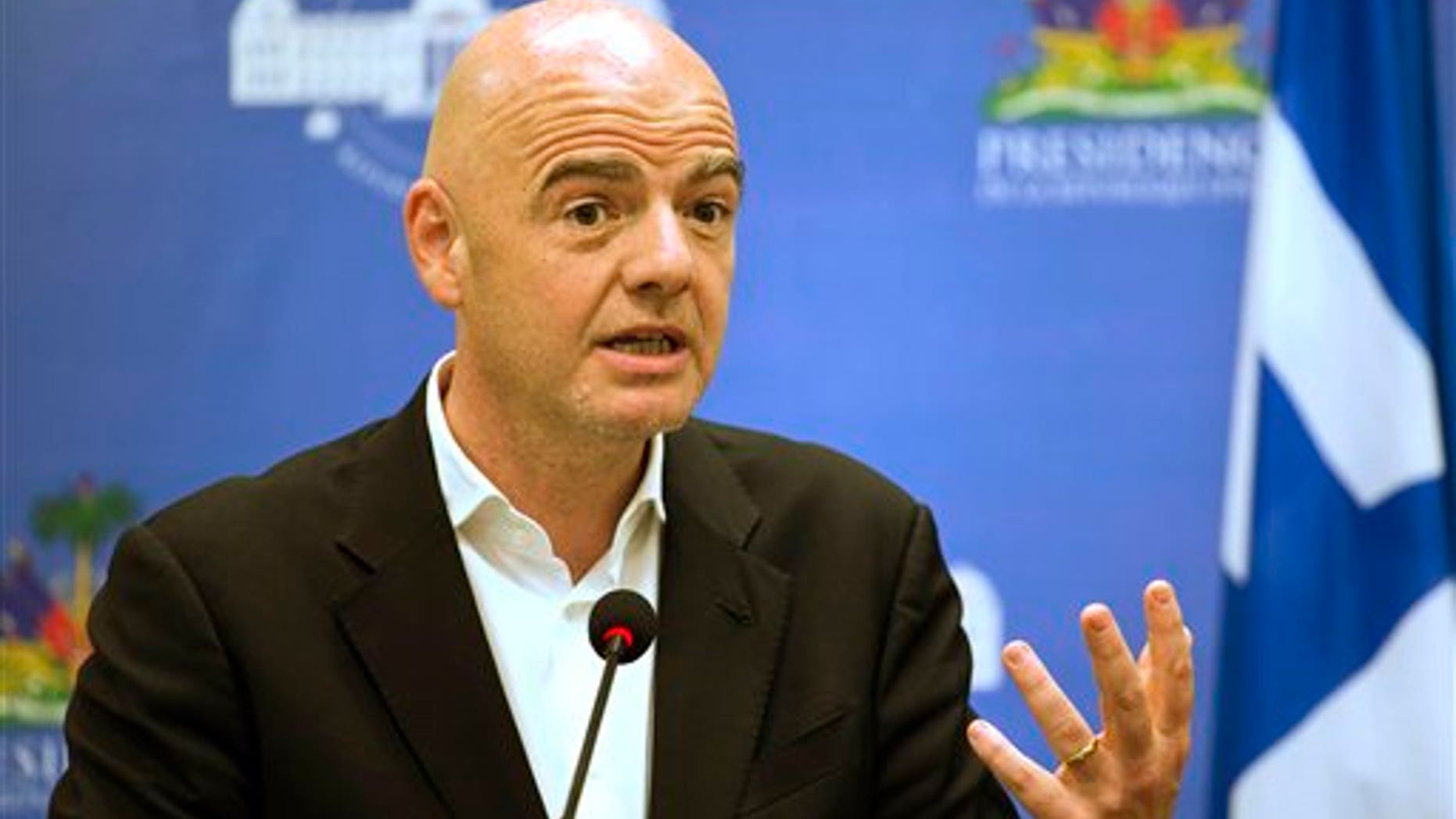 FIFA president Gianni Infantino has acknowledged, via a letter, that North Korean workers building the 2018 Russia World Cup Stadium in St. Petersburg have been subjected to human rights abuses in work conditions that have been called "often appalling."
Infantino's letter was reportedly addressed to the presidents of the Swedish, Norwegian and Icelandic Football Associations on May 22, after they wrote to Infantino last week regarding their concerns following an investigative report by Norweigan football magazine Josimar, titled "The Slaves of St. Petersburg."
FIFA OFFICIAL SHEIKH AHMAD RESIGNING AMID BRIBERY CLAIMS
The Norweigan report alleged that North Koreans and other workers were provided crowded storage containers outside of the stadium as living accommodations. It also cited a local report that a North Korean man was found dead after suffering from a heart attack.
The letter penned by Infantino admits monitoring teams found "strong evidence" in a November inspection that North Korean workers were being used at the Zenit Arena in St. Petersburg. Infantino said FIFA demanded improvements from the stadium contractor after there were found to be a number of fatal accidents as well as issues with accommodation, payments and health and safety.
"With regards to the situation of North Korean workers, FIFA is aware of and firmly condemns the often appalling labor conditions under which North Korean workers are employed in various countries around the world."
FIFA UNVEILS SHARP INCREASE IN 2018 WORLD CUP TICKET PRICES
Following a further inspection in March, Infantino said FIFA is committed to human and labor rights, and that North Korean workers are no longer being used for the stadium's construction.
Ambet Yuson, general secretary of the Building and Wood Workers' International, which was part of the inspection, said North Korean workers had been treated like "slaves," according to The Times of London. Yuson claims workers were housed in cold storage containers with no heating, were forced to work 16-hour shifts and a majority of workers' pay was being sent directly to the North Korean government.
In response to the reported letter by Infantino, a FIFA spokesperson said in a statement to ESPN FC: "After the incidents in Saint Petersburg, FIFA and the LOC have added systematic checks on the presence of North Korean workers in its inspections on all FIFA World Cup construction sites.
BAHRAIN BARS HUMAN RIGHTS WATCH STAFFER FROM FIFA EVENT
"This includes a requirement for general contractors to provide a written statement regarding the presence of North Korean workers. To date, FIFA has not found any evidence of North Korean nationals working on other FIFA World Cup construction sites.
"If such evidence were found, FIFA would, as part of its monitoring system, take the necessary measures to address the situation. FIFA firmly condemns any human rights violation linked to its activities and, in collaboration with international and national trade unions, continues to follow up on any non-compliance, irrespective of the nationality of the workers involved."