Father of 2 kidnapped Nigerian girls says don't trade daughters for militants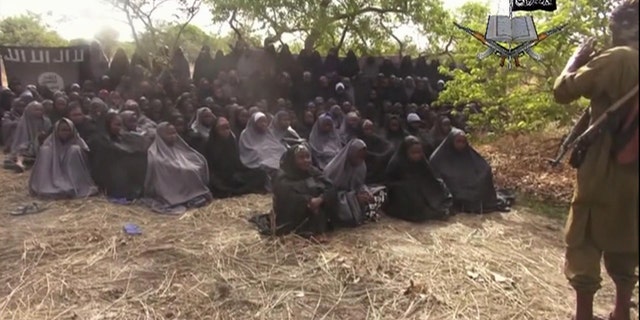 NEWYou can now listen to Fox News articles!
The father of two Nigerian schoolgirls kidnapped by Boko Haram says he does not want his daughters released in exchange for imprisoned Islamic extremists.
A video released to press outlets Monday shows Boko Haram leader Abubakar Shekau saying he will hold the 276 abducted girls until his militant brothers in prison are freed. The video also shows more than 100 schoolgirls dressed in black and gray hijabs, chanting and reciting words from the Koran in Arabic, as they make Islamic declarations of faith.
A father of two of the abducted girls -- who was not identified -- told Sky News he wants the Nigerian government to find another way to bring his girls home, and does not think it's a good idea to trade the girls for militants. He says he has not viewed the video so he wasn't sure if his daughters could be seen in it.
In the video, Shekau speaks to the camera, saying, "It is now four years or five years that you arrested our brethren and they are still in your prison. You are doing many things (to them). And now you are talking about these girls. We will never release them until after you release our brethren," he says.
But the Nigerian father says he doesn't want more militants on the streets of Nigeria. He worries that giving in to the terrorists' demands will only encourage them to carry out more violence.
"Its not right. They'll do it again," the father told Sky.
More than 300 girls were abducted after taking exams at their boarding school in the northeastern town of Chibok in Borno state on April 14. Some 53 were able to escape, but at least 276 remain missing.
A special adviser to Nigerian President Goodluck Jonathan told Sky News that Nigeria would not pay to secure the girls' release, "because the sale of human beings is a crime against humanity."
There has been no word from the Nigerian government yet on whether it would consider a trade of kidnapped girls for imprisoned militants.
Intelligence experts from the U.S., Britain and France are assisting the Nigerian government in the search for the girls.
The Associated Press contributed to this report.