Teen who joined ISIS gives birth in Syria, says people should be sympathetic toward her
A teenager who fled the United Kingdom to join the Islamic State said people should be sympathetic toward her after her family revealed the 19-year-old gave birth to a baby boy in Syria.
Shamima Begum, who has been living in Syria for the past four years, gave birth at a refugee camp and she and the baby are in good health, her family said in a statement.
"We, the family of Shamima Begum, have been informed that Shamima has given birth to her child; we understand that both she and the baby are in good health," the family's lawyer said, according to Sky News. "As yet we have not had direct contact with Shamima, we are hoping to establish communications with her soon so that we can verify the above."
UK OFFICIAL VOWS TO PREVENT RETURN OF BRITONS WHO BACKED ISIS
Begum revealed to The Times newspaper that she wants to return to the U.K. after spending four years in Syria. She was one of a group of schoolgirls from London's Bethnal Green neighborhood who went to the country to marry ISIS fighters in 2015.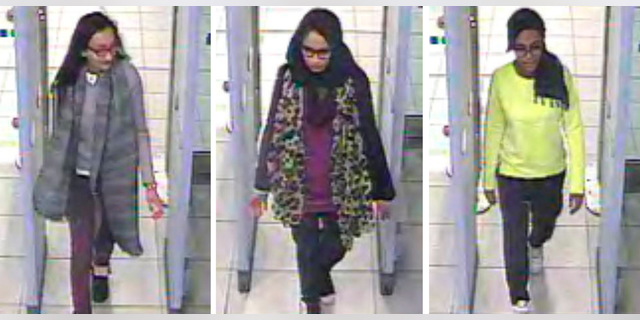 She told the newspaper that she was pregnant twice and gave birth to two babies, but they died of starvation and illness.
Before she gave birth to her third child, Begum said she wanted to raise the child in Britain with her family. She told Sky News on Sunday that she lived as a housewife since 15 while she was married to a Dutch ISIS fighter and insisted she "never did anything dangerous."
"I think a lot of people should have sympathy toward me for everything I have been through. I didn't know what I was getting into when I left," she told Sky News. "I was hoping that maybe for the sake of me and my child they'd [U.K. government officials] let me come back. Because I can't live in this camp forever."
CLICK HERE FOR THE FOX NEWS APP
Begum said U.K. authorities didn't have "any evidence" to prove she participated in ISIS activities.
"When I went to Syria I was just a housewife for the entire four years. Stayed at home, took care of my kids," she added. "I never did anything dangerous. I never made propaganda. I never encouraged people to come to Syria."
Her legal situation remains unclear. She may face charges for supporting the banned extremist group.
The Associated Press contributed to this report.