UK official vows to prevent return of Britons who backed ISIS
LONDON – Britain's home secretary issued an explicit warning Friday, saying he would move to block the return of a pregnant British teenager who left the country to join ISIS.
Sajid Javid said he "will not hesitate" to bar the entry of those Britons who traveled to the Middle East to join the Islamic State, saying those people were "full of hate for our country".
REGNANT SCHOOLGIRL WHO FLED UK TO JOIN ISIS BEGS TO COME HOME TO HAVE FANATIC'S BABY
The warning is aimed at 19-year-old Shamima Begum, a nine-month pregnant woman who now seeks to return home to Britain and have a jihadist's baby after she infamously fled to the Middle East when she was 15 years old.
My message is clear – if you have supported terrorist organizations abroad I will not hesitate to prevent your return."
"My message is clear – if you have supported terrorist organizations abroad I will not hesitate to prevent your return," Javid told The London Times.
He added that if Begum does return to the country, she will be prosecuted. "If you do manage to return you should be ready to be questioned, investigated and potentially prosecuted," he said.
The teen's family appealed for mercy from the government, saying she was underage when she left for Syria in 2015 – at the peak of the IS recruitment campaign.
She's currently at a Syrian refugee camp together with other family members and jihadist fighters.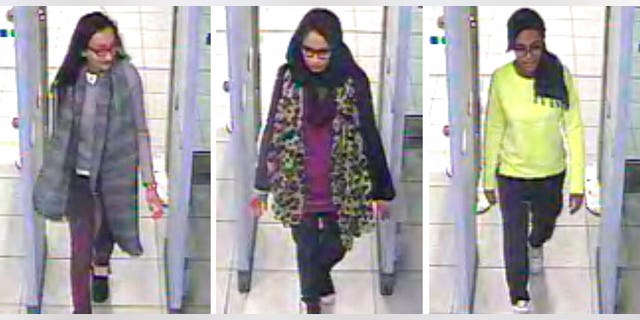 Britain's official remarks came after another minister also said that he won't pursue a rescue operation of the teen to bring her back.
AS ISIS CRUMBLES, SYRIAN KURDS WORRY ABOUT US TROOP WITHDRAWAL
Security minister Ben Wallace told BBC Radio 4's Today program that he won't risk British lives to save "terrorists or former terrorists."
"I'm not putting at risk British people's lives to go and look for terrorists or former terrorists in a failed state … actions have consequences," he said. "Some were groomed when they were young but are now adults – some of them are hardened fighters."
But the government's comments that Begum won't be allowed entry may be in a violation of international laws that prohibit leaving people "stateless."
CLICK HERE FOR THE FOX NEWS APP
Lord Carlile, a former independent reviewer of terrorism laws, told the broadcaster that unless the teen has a second nationality, she must be allowed to return to prevent her from becoming "stateless."
The Associated Press contributed to this report.