Pregnant schoolgirl who fled UK to join ISIS begs to come home to have fanatic's baby
A jihadi schoolgirl who fled London to join ISIS age 15 is now asking to come home so she can have her third baby in Britain.
Heavily pregnant Shamima Begum, now 19, has surfaced in a Syrian refugee camp and says she doesn't regret her decision to join the Islamic State.
She is due to give birth to her third child, after her first two children died of starvation and illness, and wants the baby to have a decent life with her in the U.K.
CLICK HERE FOR MORE FROM THE SUN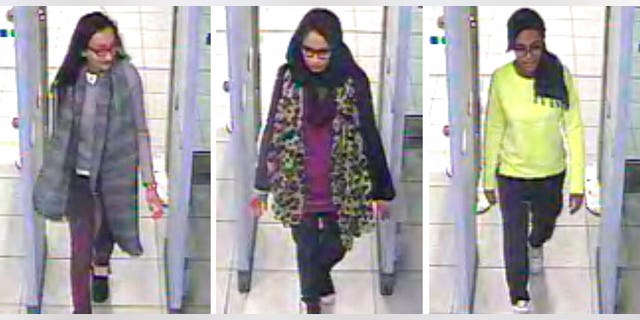 ISIS HAS STASHED AWAY MILLIONS TO FUND NEW WAVE OF ATTACKS AGAINST THE WEST, UN EXPERTS WARN
Begum ran away to join the brutal Islamic extremist regime with two young friends from Bethnal Green, London, in 2015.
The teen was discovered by a London Times journalist in a camp filled with refugees escaping the battle for the final ISIS stronghold.
TRUMP: ISIS COULD LOSE REMAINING TERRITORY WITHIN WEEK
She told him she had been married to a Dutch fighter and enjoyed a "normal" life, but he is said to have surrendered himself to Syrian fighters and she is believed to be a widow.
She added: "I know what everyone at home thinks of me as I have read all that was written about me online. But I just want to come home to have my child. I'll do anything required just to be able to come home and live quietly with my child."
Begum - who used her elder sister's passport to leave the UK - fled with two Bethnal Green Academy friends, Kadiza Sultana and Amira Abase, in February 2015.
The trio flew to Turkey and then used people smugglers to cross the border into Syria.
CLICK HERE FOR THE FOX NEWS APP
She believed that her two friends were still alive as recently as two weeks ago, but Sultana is widely thought to have been killed in a Raqqa airstrike in 2016.
This story originally appeared in The Sun. For more from The Sun, click here.