Family of suspect in New York imam shooting deny any animosity toward Muslims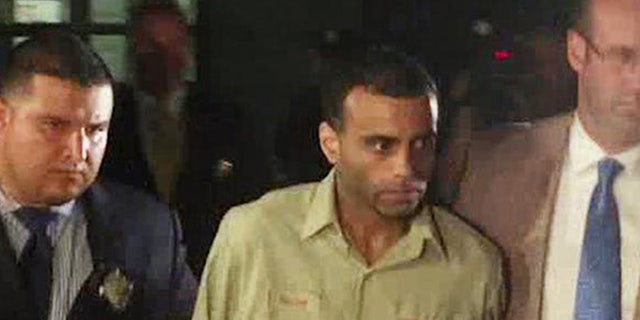 NEWYou can now listen to Fox News articles!
The manhunt for a man suspected of gunning down an imam and his friend after they left a New York City mosque ended late Sunday night when police arrested Oscar Morel outside a Brooklyn apartment.
The 35-year-old was charged Monday with two counts of second-degree murder and two counts of criminal possession of a weapon following the Saturday afternoon slaying of Iman Maulana Alauddin Akonjee, 55, and Thara Uddin, 65, near the Al-Furqan Hame Masjid mosque in the Ozone Part neighborhood of Queens.
Police spotted Morel approaching a vehicle that had been linked to an unrelated hit-and-run and that matched the description of the shooting suspect's getaway vehicle.
"Detectives from the Fugitive Task Force Unit approached the car, and then he rammed the detectives' car several times in an effort to get away," said the New York Police Department's chief of detectives, Robert Boyce. "He was placed under arrest without any further incident and brought back to the precinct for more debriefing."
Police have not yet released a motive for the shootings.
"Right now, we can't explain why this person was there. He was there just prior to (the shooting). We have him on video about eight minutes prior to the homicide," Boyce said, according to the New York Daily News.
Boyce said Morel was seen on surveillance video fleeing the area of the shooting in a black GMC Trailblazer. About 10 minutes later, a car matching that description struck a bicyclist nearby in Brooklyn.
"They were identical. We looked at the stickers, the decals, on each of the windshields ," he said, the Daily News reported.
Morel initially was charged in connection with the hit-and-run, but those charges were upgraded Monday night after police said they recovered a revolver at his Brooklyn home and clothes similar to those worn by the gunman in the surveillance video.
Morel's brother Alvin Morel told the Daily News that he was stunned to learn the news of his arrest, saying his family had no gripes with Muslims.
"This is nothing like him. My brother is a decent person. I don't know what happened. I've been trying to reach him all day," he said. "The only time we felt, everybody in New York felt a hatred was during 9/11. Other than that, we never felt a hatred with nobody."
He took to Facebook on Monday night to make a heartfelt plea for his family.
"I can't believe what has happened… GOD help my brother mother father and myself," he wrote.
Earlier Monday, about 1,000 people gathered at an Islamic funeral service for Akonjee, 55, and Uddin, 64, where emotions ran high.
The ceremony featured several speakers who said they believed the victims were targeted because of their religion. Some members of the congregation shouted, "Justice!" periodically throughout the service.
After the ceremony, part of the crowd marched to the spot a few blocks away where the shooting took place.
Mayor Bill de Blasio, a Democrat, told those gathered that the entire city was "mourning with you."
A motive for the killings remains unclear, though Boyce said the possibility that the murders were a hate crime is "certainly on the table."
Some in the largely Bangladeshi Muslim community in Queens and Brooklyn have described harassment in recent months by people who shouted anti-Muslim epithets.
Boyce said Morel may have worked in a warehouse in the East New York neighborhood of Brooklyn, but he wouldn't comment any further on his background or mental state. It was not immediately clear if Morel had an attorney who could comment on the charges.
The Associated Press contributed to this report.
Like us on Facebook
Follow us on Twitter & Instagram