Expert Says Jodi Arias Is Victim of Abuse, Prosecutor Calls Claim 'Biased'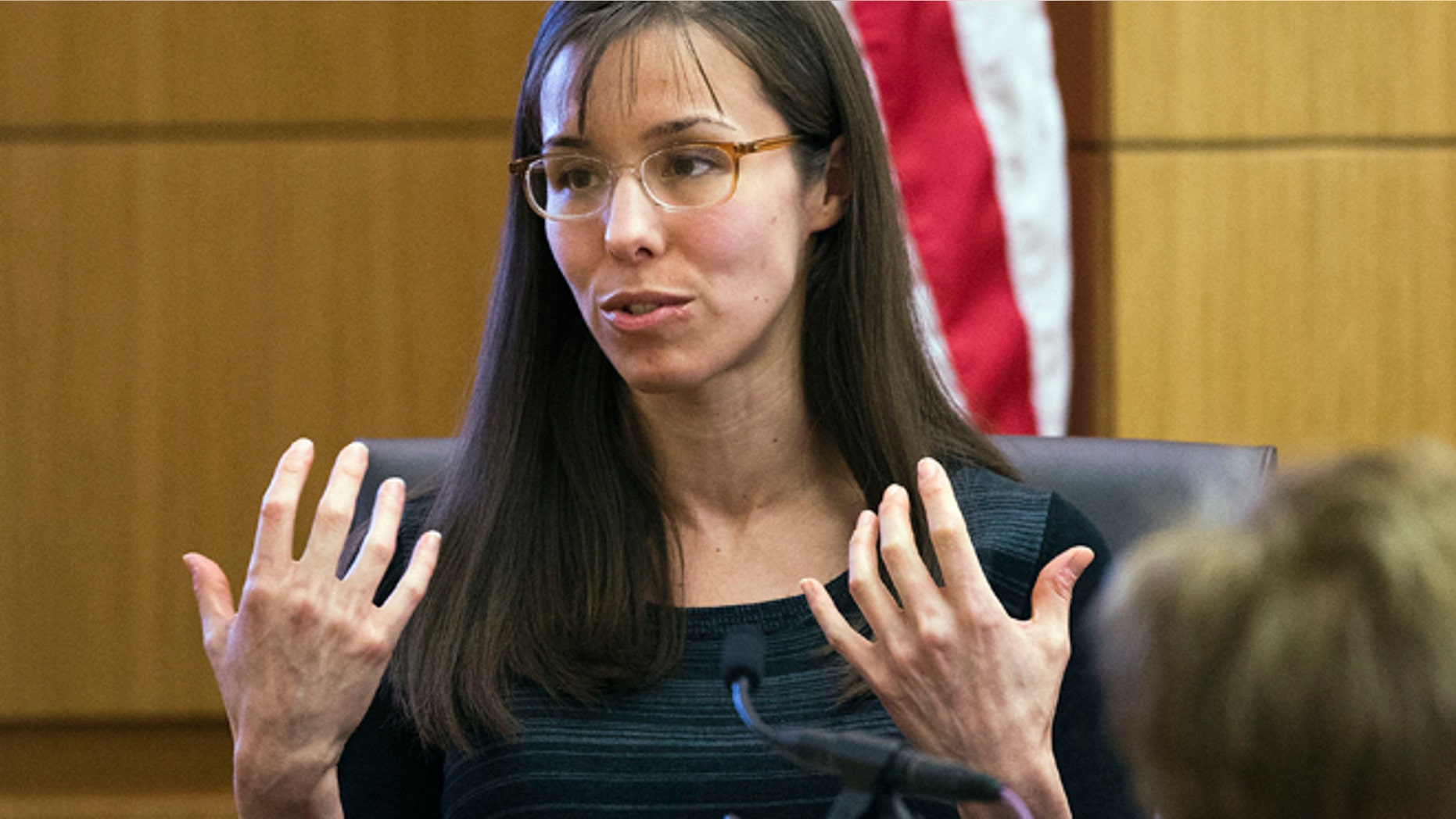 PHOENIX – Testimony is set to resume in the murder trial of Jodi Arias, who faces a possible death sentence if convicted of first-degree murder, as the prosecutor works to undermine the credibility of a defense witness whom he accuses of being biased.
Psychotherapist Alyce LaViolette has been testifying for more than a week about her conclusion that Arias suffered domestic abuse by the victim, Travis Alexander, who was killed in June 2008 by Arias in his suburban Phoenix home.
"In this case, you actually are biased in terms of the defendant, aren't you?"
Authorities say she planned the attack in a jealous rage. Arias first denied any involvement, and later said it was self-defense.
The prosecutor accused the psychotherapist of having sympathy for Arias that tainted her findings.
Psychotherapist LaViolette has spent more than a week on the witness stand testifying about the generalities of abuse victims.
Last week, she focused on Arias' volatile relationship with the victim, portraying the man as a womanizing cheater who courted multiple women simultaneously, using graphic language to entice them into sexual encounters, while berating Arias with derogatory names.
LaViolette said she interviewed Arias for more than 40 hours, while also reviewing thousands of pages of text messages, emails and other communications between Arias and the victim, as well as messages between the victim and other women she says he was courting while also carrying on a sexual relationship with Arias.
The witness said it was clear that Arias suffered not only emotional, but physical abuse at the hands of her lover, though there has been no testimony, other than Arias', and no evidence presented at trial to indicate her one-time boyfriend had ever been physically violent in the past.
Arias faces a possible death sentence if convicted of first-degree murder in the June 2008 killing of Travis Alexander in his suburban Phoenix home.
Authorities say she planned the attack in a jealous rage. Arias initially denied involvement then blamed it on two masked intruders. Two years after her arrest, she said it was self-defense. Testimony has been ongoing for more than three months.
Prosecutor Juan Martinez questioned LaViolette's ability to come to the conclusion that Arias suffered physical abuse by Alexander based solely on interviews with the defendant and reviews of communications between Arias and the victim.
"Ultimately, what you're saying is you are a human lie detector, right?" Martinez snapped.
LaViolette struggled to answer the question as Martinez repeatedly sought "yes or no" answers.
She explained that she came to her conclusions based on her review of everything, including interviews with Arias.
"It's context," LaViolette said. "It's about patterns and it's about context."
She testified last week how she found in a review of Alexander's electronic communications with other women that he courted them with graphic sexual language, and that some of the women ceased interacting with him, but he continued to press them.
In communications with one woman, Martinez pointed out how Alexander referred to Arias as a stalker.
"Isn't it true that Mr. Alexander was extremely fearful of the defendant based on what was said in that conversation?" Martinez asked.
"I don't get that," LaViolette replied.
"You're taking what's in this instant message and you're picking and choosing what to believe and what not to believe, right? Martinez prodded.
"No," LaViolette said.
The two traded barbs as LaViolette accused the prosecutor of mischaracterizing her work. She explained that while Alexander may have made such comments about Arias being a stalker, his behavior toward her — continuing to court her and invite her to his home for sex — painted a different picture.
"He is extremely afraid of her," Martinez said. "You chose not to believe that?"
LaViolette said she did not believe that assessment "based on his behavior toward Ms. Arias."
Martinez later seized on the multiple lies Arias told authorities in the days and even years after the killing.
"She does have a history of lying, doesn't she?" he asked.
"After the killing, yes," LaViolette said.
After continued prodding, LaViolette acknowledged she has no way of knowing whether Arias is telling the truth now.
Martinez then returned to a familiar accusation of bias, one he used on a previous defense witness who diagnosed Arias with post-traumatic stress disorder and amnesia. Martinez at the time accused psychologist Richard Samuels of forming a relationship with the defendant that biased his diagnosis. Samuels denied the accusations.
He leveled a similar claim against LaViolette on Monday.
"In this case, you actually are biased in terms of the defendant, aren't you?" Martinez asked, noting how LaViolette apologized to Arias during their first meeting for having gone through her journals and other private materials.
"Do I believe the evidence supports domestic violence? Yes," LaViolette replied. "I don't believe I'm biased."
The day ended with a perplexing detail that hadn't yet been explained as Martinez questioned LaViolette about a "manifesto" Arias has written.
Martinez questioned her about Arias having signed the work "in case she became famous."
Testimony was set to resume Tuesday.
Based on reporting by the Associated Press.
Follow us on twitter.com/foxnewslatino
Like us at facebook.com/foxnewslatino