Ex-cop charged with robbing Hispanics cleared of hate crime, convicted of larceny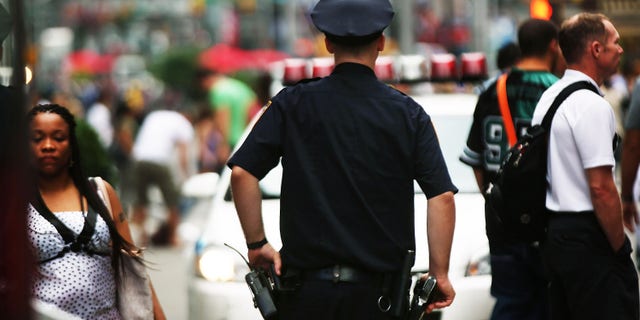 MINEOLA, N.Y. (AP) – A former suburban New York police sergeant charged with stealing money from Hispanics during traffic stops was cleared of hate crimes charges Friday, but a jury did convict him of larceny and official misconduct.
The verdict drew immediate calls from Hispanic advocates for a federal takeover of the Suffolk County Police Department, which previously was the focus of a Justice Department probe following the 2008 death of an Ecuadorean man by a group of teenagers.
Scott Greene's trial took place weeks after the police department's former chief, James Burke, was indicted on federal charges of abusing a burglary suspect and coercing officers to cover it up. The allegations in that case do not involve Hispanics.
"The verdict is another chilling reminder of a broken relationship between the Suffolk County Police Department and the Latino community," said Juan Cartagena, president and general counsel for LatinoJustice PRLDEF. "For too long Latinos in Suffolk County have come under attack by police. It's time for the DOJ (Department of Justice) to step in and stop this continuous pattern of racial abuse."
A spokeswoman for the U.S. Attorney's office declined comment.
Greene, 52, was arrested in 2014, accused of grabbing $50 or $100 cash from six Hispanic victims during traffic stops. He was arrested during a sting after authorities received tips that the thefts were occurring. He faces 1 1/3 to 4 years in prison when he is sentenced Feb. 16; a judge ordered him held without bail until he is sentenced.
Suffolk County prosecutors note that Greene faces a second hate crimes trial on a 60-count indictment for allegedly robbing another 20 Hispanic drivers and passengers who came forward after the initial charges were filed.
In opening statements at Greene's trial earlier this month, defense attorney Scott Gross conceded the now-retired sergeant took $100 during the sting, but said the officer never targeted Hispanics. "It was our argument all along that this was not a hate crime," Gross told reporters after the verdict.
The Hispanic men testified through a Spanish interpreter that between 2010 and the end of 2013, Greene searched them during traffic stops when they could not provide a driver's license or other documents. All six said they later found money missing from their wallets or pockets.
"After hearing all of the available and admissible evidence, the jury determined that Scott Greene was a thief with a badge," District Attorney Spota said. "We are disappointed they did not believe Greene stole from his victims because of a belief or perception regarding their race, color, or national origin - as the hate crime statute requires. We respect their verdict. This defendant can no longer victimize anyone because of his position as a police officer and we will recommend the maximum term of imprisonment at sentencing."
In 2013 the police department reached a settlement with the U.S. Justice Department over its treatment of Hispanic immigrants. The department agreed to enhance investigations of hate crimes and bias incidents following a 2008 hate crime killing of an Ecuadorean immigrant in Patchogue. Hispanic advocates said at the time that victims were reticent to report crimes out of fear of being questioned about their immigration status.
Spota said in the Greene case that investigators from his office worked with liaisons in the Hispanic community to encourage victims to come forward.
"Scott Greene's crimes were despicable and unacceptable and made worse that they were committed by someone who took an oath to uphold the law," Suffolk County Executive Steve Bellone said in a statement following Friday's verdict.