Eight killed in Iraq attacks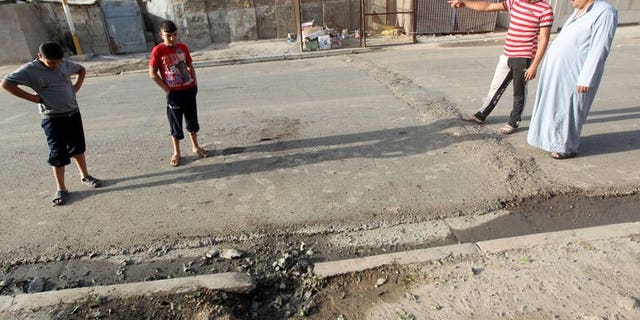 NEWYou can now listen to Fox News articles!
MOSUL, Iraq (AFP) – Violence in Iraq, including attacks on two members of a district council in the north, killed eight people on Sunday, officers and doctors said.
The attacks are just the latest in a surge in violence that has killed more than 340 people this month and over 2,600 so far this year, according to AFP figures based on security and medical sources.
Iraq has faced years of attacks by militants, but analysts say widespread discontent among Iraq's Sunni Arab minority which the Shiite-led government has failed to address has driven the spike in unrest this year.
Five people were killed in Nineveh province, which is centred on the main northern city of Mosul.
A roadside bomb killed district councillor Mohammed Obaid Sultan south of the city, along with one of his sons. Another son was wounded.
The head of the same Hamam al-Alil district council, Saad Ali Shuwait, was targeted by a roadside bomb, which wounded four of his guards.
In Mosul itself, two soldiers were shot dead at a checkpoint.
Further south, a policeman was shot dead and another wounded in an attack on a checkpoint, while a roadside bomb targeted Nineveh police chief Brigadier General Khaled al-Hamdani's convoy, wounding three of his guards.
In Fallujah, west of Baghdad, gunmen shot dead police Lieutenant Colonel Iyad al-Samarraie and wounded two of his guards near a mosque.
And a roadside bomb near a restaurant, northwest of the Diyala provincial capital of Baquba, killed two people and wounded three.