Egypt's Morsi says France's intervention in Mali is creating a 'new conflict hotspot'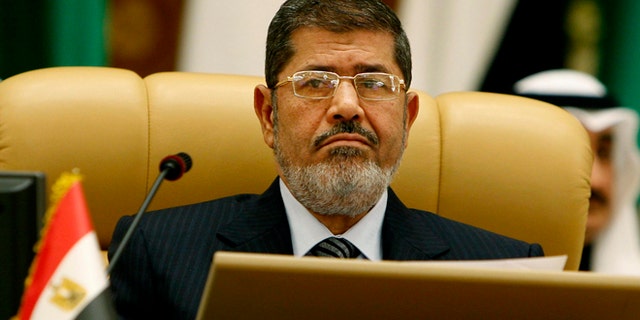 RIYADH, Saudi Arabia – Egypt's Islamist president on Monday stated his opposition to France's military intervention in Mali, saying its actions there would create a "new conflict hotspot" that separates the Arab north from its African neighbors to the south.
Addressing the opening session of an Arab economic summit in Saudi Arabia, Mohammed Morsi also declared his support for Algeria against threats to its security -- a reference to the takeover by Islamic militants of a gas complex last week in that nation's remote southeast. Thirty-eight hostages and 29 militants died in the attack.
The Masked Brigade, the group that claims to have masterminded the takeover, has warned of more such attacks against any country backing France's involvement in Mali. French forces there are trying to help stop an advance by Islamic extremists.
Morsi, who hails from Egypt's oldest Islamist group -- the Muslim Brotherhood -- said he would have preferred to see a "peaceful and developmental" intervention in Mali. There was no immediate reaction from France on the comments Morsi made in Riyadh. Morsi is expected to visit Paris on Feb. 1.
The Brotherhood is more moderate than the ultraconservative Salafi groups that gained political empowerment after the ouster nearly two years ago of autocratic leader Hosni Mubarak. However, Morsi's critics claim that he is using his authority to facilitate Brotherhood control of the country and that his ultimate goal is to turn Egypt into an Islamist state.
Egypt also has its own problems with militants. Since Mubarak's ouster, the nation's Sinai Peninsula bordering Gaza and Israel has become nearly lawless, with militants staging deadly attacks against Egyptian security forces and targets across the border in Israel.
Morsi also maintains close ties to Gaza's militant Hamas, whose followers share the ideology of the Brotherhood but is branded a terrorist organization by Israel, the U.S. and the European Union. He brokered a truce between Hamas and Israel in November and has significantly relaxed Egypt's Mubarak-era siege of Gaza to allow the passage of goods.