Drug Traffickers Worship "Holy Death" Saint To Keep The Law Away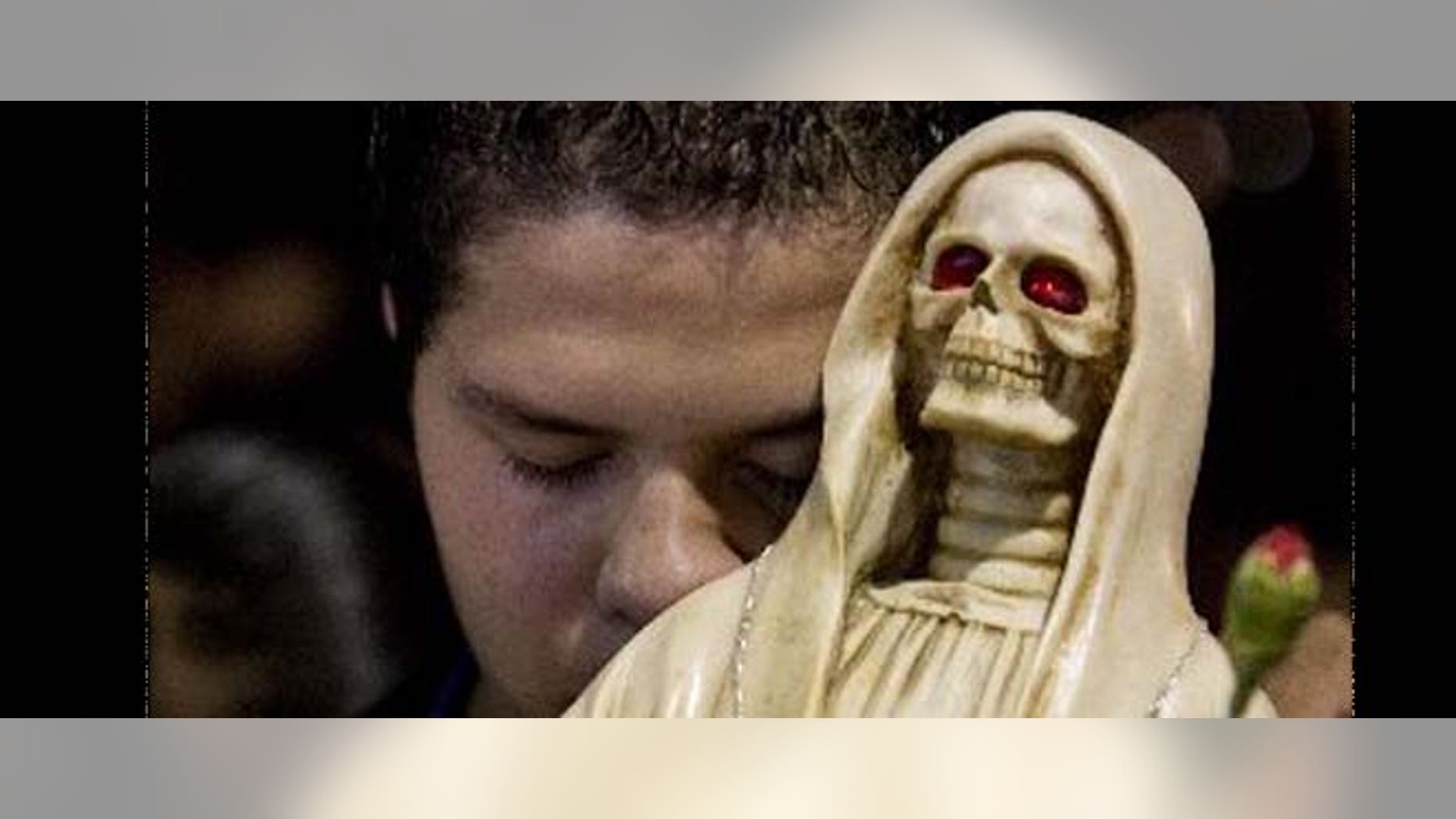 She is called Santa Muerte or "Holy Death" and has become the saint of choice for Mexican outlaws engaged in illegal activity.
A federal marshal says shrines to the skeletal "Holy Death" are a growing presence, not just along the U.S.-Mexico border but throughout the United States.
Shrines to the skeletal "Holy Death" are becoming increasingly commonplace on both sides of the Rio Grande, a federal marshal said.
"Based on my experience, it appears she is the most popular icon being used by the drug traffickers, criminals not just in Mexico and not just along the Southwest border area but throughout the entire United States," U.S. Marshal Robert R. Almonte of El Paso told the Laredo Morning Times for a story in Sunday's editions.
Among the places where "La Flaquita," or "the skinny little girl," has become increasingly visible is in Laredo, the Texas border city across the Rio Grande from Nuevo Laredo, Mexico.
In the past three years, drug trafficking suspects arrested have been found to have Santisima Muerte shrines in their homes or backyards, complete with offerings such as food, liquor or photographs of family members, said Investigator Joe Baeza, Laredo police spokesman. Once, officers found statues inside a doghouse in a living room, he said.
"As a matter of fact, it's so common now that there are certain grocery stores in town that actually sell candles with the Santisima Muerte," Baeza told the Times.
Such images have become so commonplace that candles are sold in Laredo supermarkets, Baeza said. The candles show the dark, robed figure standing behind a police officer.
On top is the message: "Law stay away!"
"For followers, it's a strong belief that she will protect them from the long arm of the law and allow them to carry on their illegal activities," Baeza told the Times.
The origins of the Santa Muerte myth are murky, and Almonte said he has researched it thoroughly.
"Some people believe she began in the slums and prisons in Mexico some 30 or 40 years ago. Others believe, and I agree with this, that Santa Muerte can be traced back to pre-Christian beliefs of the Aztec God of Death," he said.
Almonte said he has heard reports from Mexico of people killing their victims as an offering to Santa Muerte, as the Aztecs did.
Although Santa Muerte imagery can be a hint of criminal activity, it is not evidence, he said. He notes that some followers are not involved in criminal activity.
One such follower, Mary Trejo, 62, said she is frequently stopped by U.S. Border Patrol agents and Texas Department of Public Safety troopers when she drives out of Laredo because of the Santa Muerte stickers on her truck windows.
The state employee tells the Times she has been a believer for about 12 years and that Santa Muerte brings her peace.
"Those who don't believe in 'mi flaquita' don't know what they're missing," she said.
Based on the reporting from the Associated Press.
Follow us on twitter.com/foxnewslatino
Like us at facebook.com/foxnewslatino