Dozens of Rohingya escape Thailand detention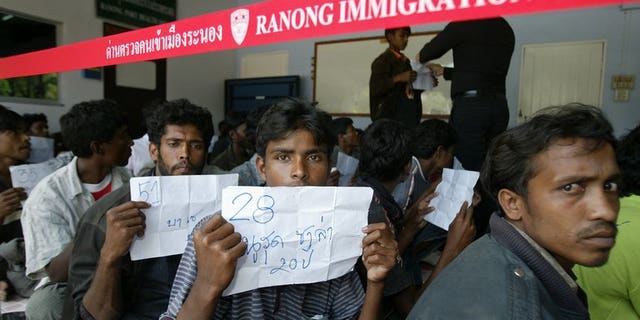 BANGKOK (AFP) – Dozens of Muslim Rohingya boat people from Myanmar escaped Tuesday from a Thai immigration centre, police said, as a rights group called for all of them to be freed from detention.
Some 87 Rohingya men broke out of the detention centre housing 137 asylum-seekers in Sadao, a southern district bordering Malaysia.
They were among nearly 2,000 Rohingya who have been held -- some for many months --for entering Thailand illegally.
Local media reports said they punched a hole in the ceiling and climbed out using a rope made from their clothes.
Authorities are searching for the runaways and have rearrested two of them, according to Suwit Choensiri, a police commander in Songkhla province which includes Sadao.
"The reason for their escape is the pressure they are under after they being detained for long time with no idea of their future," he added.
Many of the asylum-seekers have been locked up in the overcrowded and reportedly insanitary centre for several months.
Thousands of Muslim Rohingya boat people -- including women and children -- have fled Myanmar since Buddhist-Muslim clashes a year ago in its western state of Rakhine.
Those who arrived in Thailand have been "helped on" by the kingdom's navy towards mainly Muslim Malaysia -- their destination of choice -- or detained as illegal immigrants.
Thailand initially said the asylum-seekers would be allowed to stay for six months while the government worked with the UN refugee agency UNHCR to try to find other countries willing to accept them.
But overseas help has not been forthcoming so far, leaving the refugees in limbo and separated from their families.
Thailand has discussed ways to address the issue, including sending the Rohingya to new camps on the border with Myanmar, but separate from their Buddhist compatriots to avoid any flashpoints.
But rights groups have called for their freedom, saying the Rohingya are being detained in cramped and unsanitary conditions and are vulnerable to exploitation.
"The Rohingya have fled horrific abuses in Burma (Myanmar) that would put many at risk were they to return home," according to Brad Adams, Asia director for Human Rights Watch.
"Instead of sticking them in border camps or immigration lock-ups, the Thai government should consider allowing the Rohingya to remain, work, and live under temporary protection."