Dozens dead after Russian cargo plane crashes along Nile River in South Sudan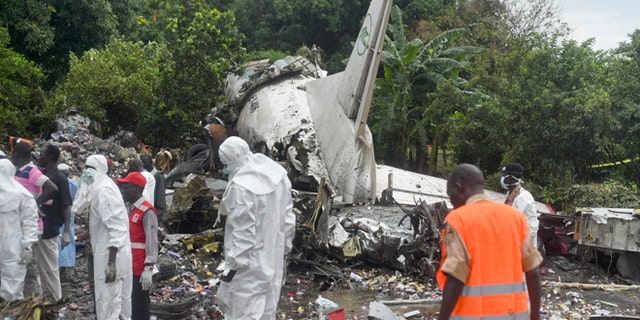 A Russian cargo plane that was reportedly overloaded crashed along the banks of the Nile River Wednesday, killing dozens of people in the second deadly crash of a Russian plane in the region in less than a week.
The cargo plane had just taken off from South Sudan's capital city, Juba.
South Sudan's Civil Aviation Authority said the number of dead is still being counted, but witnesses and officials told The Associated Press that at least 25 people were killed. An Associated Press reporter at the scene saw bodies, including those of women and children.
A witness and a police officer who did not wish to be identified told Reuters that 41 people were killed in the crash, while another witness counted at least 32 bodies.
The plane had a five-person Russian crew, according to the BBC. Presidential spokesman Ateny Wek Ateny told Reuters that official documents showed the plane was carrying 18 people.
Officials said the plane was operated by freight and logistics firm Allied Services Ltd.
"We have secured the site of crash and also we are in the stage of recovering bodies and [the] black box," Stephen Warikozi, the chief executive of the Civil Aviation Authority at Juba airport, told Reuters.
It is the second Russian air tragedy in five days, following the crash of a passenger plane in Egypt on Saturday that killed all 224 people on board. The circumstances surrounding that incident are still being investigated.
Parts from the Sudan plane crash were scattered in a bushy area on the banks of the Nile with a few homes nearby. Packages of cheap sandals, cigarettes, beer and crackers were strewn amid the wreckage. The white tail section protruded from the brush.
Bashir Yashin, who saw the plane come down, said it seemed as though initially the plane might crash into a market area before the pilot apparently diverted it. Another witness, Angelo Kenyi, said a child, who looked no more than a year old, and an elderly woman were pulled from the fuselage.
Apparently all of those killed had been on the plane, local residents said, which crashed into a swampy, muddy farm plot in Juba with no structures. Onlookers quickly gathered near the site, about 1 mile from Juba's international airport. After the crash, planes were still taking off and landing at the airport.
Presidential spokesman Ateny Wek Ateny said the plane had been bound for the Paloich oil fields in Upper Nile state. Rebels and government forces have been battling for control of Upper Nile state. Juba, the capital, has been peaceful recently.
The Antonov plane crashed shortly after taking off, Ateny said. He gave no more details.
Russian television channel LifeNews quoted an unnamed source at the Russian aviation agency as saying that the plane appeared to have been overloaded and that it was made in the Soviet Union in 1971. There has been no official reaction from Russian authorities so far.
It is common for the security services to put family members on the cargo planes to Paloich even if they are not on the manifest, according to Kenyi Galla, assistant operations manager for Combined Air Services, a company that operates chartered flights across South Sudan. The doomed flight was not chartered by his company, Galla said..
"Normally (this flight) used to carry 12 people, but the problem is they added more people," he said. "This plane is just for cargo, not for passengers. It was just chartered for goods."
Many parts of South Sudan, which became an independent nation in 2011, have been hit by violence since December 2013, with government forces under President Salva Kiir battling rebels led by his former deputy, Riek Machar. Fighting persists despite a peace agreement signed in August.
The Associated Press contributed to this report.