Downed tree in Puerto Rico knocks out power to almost a million customers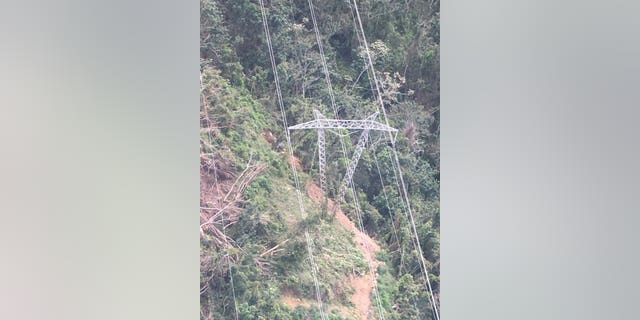 NEWYou can now listen to Fox News articles!
Officials said a tree that dropped on to a power line in Puerto Rico caused a widespread outage that left more than 800,000 people without power on Thursday.
The outage occurred as the territory continues to struggle following the impact of Hurricane Maria that hit the island in September, with tens of thousands of customers still without power.
The Puerto Rico Electric Power Authority tweeted an aerial photo of the area, saying the tree crashed on the 50900 line. The line brings power to San Juan, as well as other nearby locations.
Efforts to restore power could last anywhere between seven to 11 hours, the company's interim director said.
The tree fell as crews were clearing land in the southeast mountain town of Cayey as part of power restoration efforts.
HURRICANE NAMES HARVEY, IRMA, MARIA AND NATE NOW 'OFFICIALLY RETIRED'
The power outage caused significant disruption to people and businesses in the area, including some people riding on public transportation in San Juan who had to get out and walk. The transit system is run on electricity, causing the cars to get stuck in the outage.
Some businesses shut down for the day, while others continued to operate sans any air conditioning.
San Juan restaurant Casa Manolo, which doesn't have a backup generator, continued to cook on gas stoves.
"You get used to it," restaurant owner Manolo Piqueres told The Associated Press. "The sun comes out eventually."
2018 HURRICANE SEASON WILL BE 'SLIGHTLY ABOVE AVERAGE,' RESEARCHERS SAY
The U.S. territory's international airport and main public hospital were also forced to run on power from their generators.
Fredyson Martinez, the vice president of a union representing power company workers, told The Associated Press that another line the company was trying to use to help back up the main line also failed on Thursday for unknown reasons.
Across the island, more than 50,000 customers remain without power since the Category 4 storm struck on Sept. 20 and destroyed up to 75 percent of distribution lines. The country is still relying on nearly 900 of the more than 2,000 temporary generators installed by federal officials after the storm.
The Associated Press contributed to this report.