Despite Arab anger, Qatar to continue support for Gaza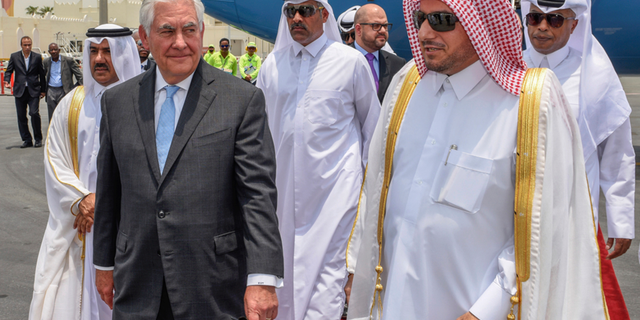 GAZA CITY, Gaza Strip – Qatar will continue to support development projects in the Hamas-controlled Gaza Strip, a Qatari envoy said Tuesday, defying a boycott by powerful Arab neighbors imposed in part over its support for the Islamic militant group.
Mohammed al-Amadi, the head of Qatar's Gaza Reconstruction Committee, made his promise as U.S. Secretary of State Rex Tillerson was in the region pressing for an end to the Gulf crisis.
Saudi Arabia, the United Arab Emirates, Bahrain and Egypt severed ties with Qatar last month, accusing the energy-rich sheikhdom of supporting Islamic extremists, including Hamas, across the region. Qatar denies the charges.
"My current visit is to emphasize to the Palestinian people that we are still here to continue projects and launch new ones," al-Amadi said at a ceremony to sign a contract for building eight residential buildings. He stressed that the timing of the visit was "calculated."
One of the main goals of the Saudi-led isolation of Qatar is to convince it to cut ties with the Muslim Brotherhood, the historical parent of the militant Hamas group.
Qatar has been the largest single donor to Gaza over the past five years, disbursing about $500 million for housing, reconstruction, infrastructure development, and health projects.
Al-Amadi stressed that his country doesn't support Hamas, but the massive projects are widely seen as indirectly aiding the group. Qatar also hosts exiled Hamas leaders.
Qatar notes that its aid to Gaza is coordinated with Israel, which controls most land crossings into the blockaded territory, and the rival government of President Mahmoud Abbas, who still claims authority over Gaza after losing control of the territory a decade ago.
Nickolay Mladenov, a U.N. envoy who attended the ceremony, thanked Qatar for its role in alleviating the humanitarian crisis.
His office released a report predicting a bleak future for Gaza, 10 years after the Hamas takeover and a subsequent blockade by Israel and Egypt. The countries say the restrictions on the movement of people and goods in and out of Gaza are needed to prevent Hamas from arming.
The U.N. had warned five years ago that Gaza would be "unliveable" by 2020 due to the deterioration of the economy and natural resources. Tuesday's report says things have only gotten worse.
"Today's update shows that unfortunately things have speeded up and have deteriorated more quickly than expected," Mladenov said.