Demonstrators criticize government over suspected ISIS Ankara bombings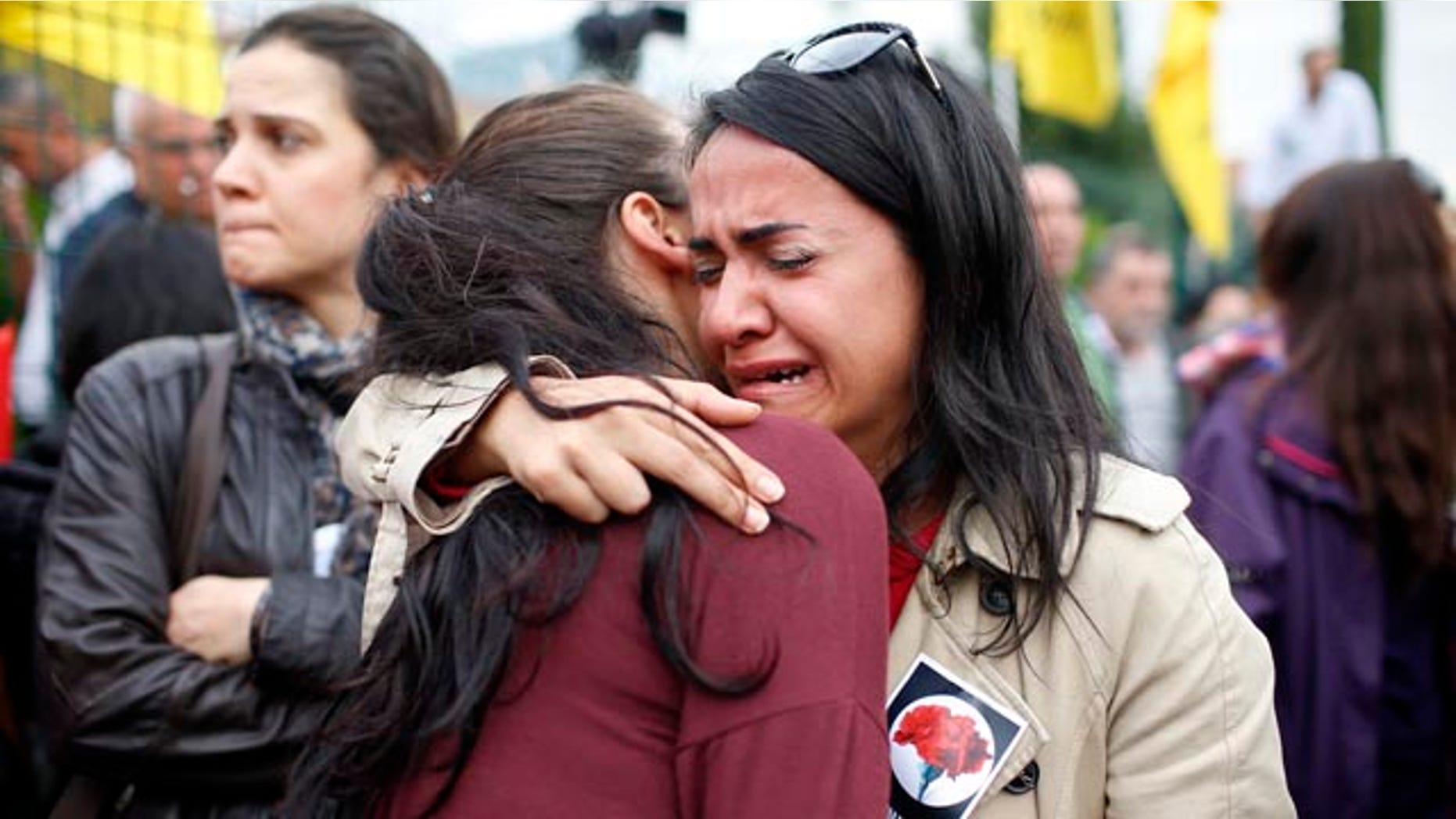 Hundreds of people marched through Istanbul and the Turkish capital of Ankara on Monday to condemn suspected ISIS-suicide bombings that killed at least 97 people, with many expressing anger at the Turkish government.
Turkish Prime Minister Ahmet Davutoglu rejected the accusations, calling them "dangerous" and "dastardly," the AP reports. He also denied that Saturday's attack at a bombing at a peace demonstration in Ankara was a result of Turkey's involvement in war in Syria.
Davutoglu said Monday that two male ISIS militants were suspected of carrying out the double suicide bombing.
He told Turkish broadcaster NTV in an interview that DNA tests were being carried out to determine the identities of the suspected bombers. A report in Yeni Safak, a newspaper close to the government, claimed DNA samples were being compared to those obtained from families of extremists authorities suspect could have carried out the attacks.
"It was determined how the suicide bombers got there," Davutoglu said. "We're close to a name, which points to one group."
The Hurriyet newspaper reported the type of device and explosives used in Ankara were the same as those used in a suicide bombing the government blames on ISIS that killed 33 Turkish and Kurdish peace activists near the town of Suruc bordering Syria in July.
A pro-Kurdish party has said that up to 128 people died in the attacks Saturday outside Ankara's main train station that targeted Turkish and Kurdish activists who were gathering for a rally to call for increased democracy and an end to the renewed fighting between the Kurdish rebels and Turkey's security forces that has killed hundred since July.
Davutoglu suggested in his interview that Saturday's attack was an attempt to undermine the government ahead of parliamentary elections November 1. On the other hand, mourners have accused President Recep Tayyip Erdogan of fomenting violence to gain votes for the ruling party ahead of the vote.
On Sunday, police detained four more suspected ISIS militants in a raid in the southern city of Adana, the region's governor's office said Monday. The detentions raised the number of suspected ISIS militants taken into custody in sweeps in four cities to around 40.
It was not clear however, if any of the arrests were linked to the peace rally bombings.
Turkey agreed recently to more actively support the U.S.-led battle against ISIS, opening its bases to U.S. aircraft launching air strikes on the extremist group in Syria and carrying out a limited number of strikes on the group itself.
The bombers struck hours before Kurdish rebels battling Turkish security forces followed through with plans to declare a unilateral cease-fire, to reduce tensions leading up to elections.
Turkey's government rejected the declaration, saying the rebels must lay down arms for good and leave the country. Turkey's military meanwhile carried out more cross-border airstrikes against Kurdish shelters and positions in the Zap and Metina regions of Iraq.
While no one group has been ruled out in the bombings, government opponents blamed security forces for failing to protect the peace rally.
The Associated Press contributed to this report.