Death Toll From Philippine Flash Floods Tops 1,000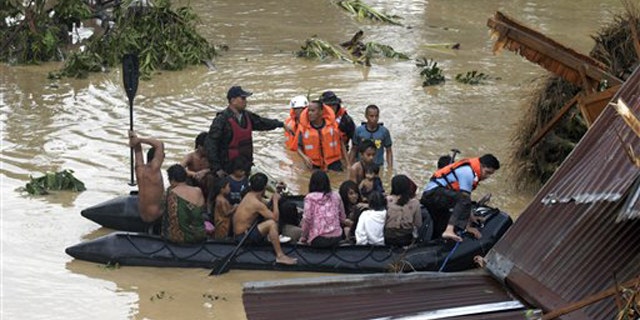 ILIGAN, Philippines – The official death toll from last week's massive flash flooding in two southern Philippine cities topped 1,000 on Wednesday as authorities said they lost count of how many more were missing in one of the worst calamities to hit the coastal region.
The latest tally showed a total of 1,002 have been confirmed dead, including 650 in Cagayan de Oro and an additional 283 in nearby Iligan city, said Benito Ramos, head of the Civil Defense Office. The rest came from several other southern and central provinces.
A tropical storm swept through the area Friday night and unleashed flash floods in the middle of the night that caught most of the victims in their sleep.
"There were many lessons learned by the people who did not listen to national and local governments, but this is not the time to put the blame on them," Ramos told The Associated Press, adding that warnings by weather forecasters of an approaching storm went unheeded.
He said the government continues to be focused on retrieving the bodies, most of which are being pulled from the sea off Cagayan de Oro.
"We've lost count of the missing," he said.
President Benigno Aquino III declared a state of national calamity during a visit to the region Tuesday and promised the government "will do its best to prevent a repeat of this tragedy."
He said there would be an assessment of why so many people died and why those living along riverbanks and close to the coast -- most of them illegal settlers -- had not been moved to safety.
"I do not accept that everything had been done. I know that we can do more. We must determine what really happened," Aquino said. "Must this end in tragedy? We knew that (storm) was coming. There should have been efforts to avoid the destruction."
Authorities and grieving relatives have begun burying the dead.
People wept during funeral rites at the Iligan city cemetery, where soldiers carried the caskets of at least 38 victims Tuesday. Many wore masks to try to block the stench of decomposing bodies.
"We have to give the dead a decent burial," Mayor Lawrence Cruz said. He said authorities were using part of the cemetery's passageway to build tombs.
About 45,000 displaced were still crowded in evacuation centers as aid workers rushed in relief supplies. Lack of running water was a major concern.
UNICEF launched an appeal for $4.2 million to assist the victims and dispatched water bladders, hygiene kits and temporary pit latrines and mobile water units.