Dead Activist Again in Middle of Israeli-Palestinian Conflict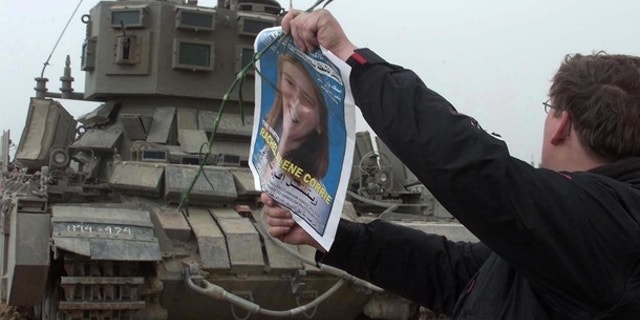 The Irish cargo ship steering toward a confrontation with Israel's navy is bearing more than just aid for the Gaza strip — it also carries the name of Rachel Corrie, an American activist who was killed by an Israeli army bulldozer in 2003.
The name is intended as both an honorary gesture and an extra stab at the Israeli military, which is gearing up to intercept the MV Rachel Corrie early Saturday in what both sides hope will be a peaceful encounter.
Corrie, 23, had traveled from Olympia, Wash., to the Gazan city of Rafah to protest Israeli incursions there and act as a human shield to prevent the destruction of Palestinian houses in Gaza.
But when she positioned herself in front of a house targeted for demolition on March 16, 2003, the military bulldozer that was advancing toward her did not stop, and Corrie was crushed to death.
Some witnesses said the driver of the bulldozer likely saw Corrie but continued to plow toward the house, and placed the blame for her death squarely on Israel's head.
But the driver of the bulldozer said he did not see Corrie at any point and that his viewpoint was obstructed by the thick security cage on the reinforced bulldozer. An official inquiry absolved him of guilt and called the incident a "regrettable accident."