Convicted serial killer who married his paralegal executed in Florida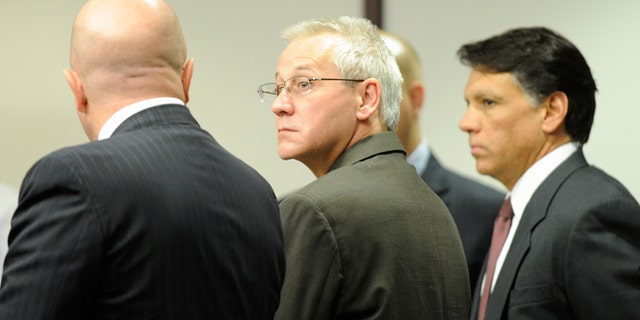 STARKE, Fla. (AP) – Oscar Ray Bolin, a former carnival worker who was convicted of killing three Tampa Bay-area women and then married a member of his defense team while on death row, was executed Thursday in Florida.
Gov. Rick Scott's office said Bolin was pronounced dead by lethal injection at 10:16 p.m. at Florida State Prison in Starke. The scheduled 6 p.m. execution time was delayed until the U.S. Supreme Court rejected without comment Bolin's final appeal.
The death warrant Scott signed in October is for the 1986 slaying of Teri Lynn Matthews. The 26-year-old Matthews was abducted from a post office in Pasco County, just north of Tampa.
Bolin was also sentenced to death for the killing of 17-year-old Stephanie Collins. A jury also gave him the death penalty for killing 25-year-old Natalie Holley, but that verdict was thrown out because of legal errors. All three women were stabbed.
Another jury eventually found him guilty of second-degree murder in the Holley case.
Matthews' mother, Kathleen Reeves, and Collins' family were present for the execution. Reeves told The Associated Press it doesn't matter that Bolin was not executed for all three cases "because he only dies once."
"He dies for all of our girls," she said.
Bolin said, "No, sir," when asked if he wanted to make a final statement Thursday night. The execution procedure took about 12 minutes, during which Bolin's chest heaved for several minutes as he took a number of deep breaths.
Afterward, tears rolled down the cheeks of Bolin's lawyer, Bjorn Brunvand, as he talked to members of the media.
"I cannot imagine the pain they have suffered," he said of the victims' families. "But this is not the solution. Executing people is barbaric, and I don't think it's healthy for us to find joy in a healthy human being, being executed."
Several dozen friends and family members of the victims gathered outside the prison after the execution and talked to the media.
"It was not a celebratory event," Reeves said. "I feel relief that it finally occurred."
"I will go to my grave knowing I experienced closure in my daughter's murder," she said.
On Wednesday, Bolin told the Fox 13 television station that he's innocent. "I didn't know 'em, never seen 'em, never met 'em," he said of the three victims.
Bolin told the TV station that evidence used to convict him was both tampered with and planted.
"My conscience is clear," he told the TV station. "I'm at peace with myself. It's my release. My punishment's over. After 28 years of this, being in this box for 28 years, it's a release. My punishment's over. They can't hurt me no more."
While on trial, Bolin and a woman on his defense team fell in love. Rosalie Martinez was a paralegal at the Hillsborough Public Defender's office who was married to a prominent Tampa attorney. Martinez divorced him and married Bolin, on live TV, in 1996 — 10 years after the slayings.
Rosalie Bolin maintained that her husband was innocent in Matthews' killing, and she has become one of the state's most outspoken death penalty opponents since their marriage.
The three Tampa-area killings went unsolved until someone called an anonymous tip line in 1990, when Bolin was already serving a 22- to 75-year prison sentence in Ohio for kidnapping and raping a 20-year-old waitress outside Toledo in 1987.
Authorities later discovered it was the new husband of Bolin's ex-wife who called in the tip; the ex-wife said Bolin had told her about the killings in 1986. During the trial, Bolin's younger half brother said he watched Bolin beat Matthews and try to drown her with a garden hose. The half brother later recanted his story, then reversed his position again.
Bolin was also officially linked to just one other murder: the strangulation of Deborah Diane Stowe, 30, in 1987 in Greenville, Texas. His cousin told authorities that he and Bolin abducted Stowe outside a convenience store and raped her in a truck before Bolin killed her.
Texas prosecutors declined to seek an indictment.
All of Bolin's convictions were reversed at least twice due to legal errors, but new juries found him guilty again in all three cases. He once again received the death penalty in the Matthews and Collins killings, but a new jury in the Holley slaying found Bolin guilty of second-degree murder, converting his previous death sentence to a sentence of life in prison.
Like us on Facebook
Follow us on Twitter & Instagram