Rubio and Cruz fighting for the undecided voters across Iowa and New Hampshire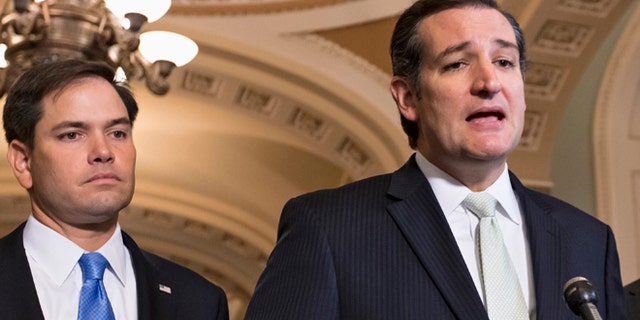 In what is considered a departure for Sen. Marco Rubio, who has leaned heavily on fundraisers and media campaigns to make his pitch for the presidency, the senator last week tried to make a connection with Iowa voters through a bus tour and more down-to-earth meet-and-greet events.
Days earlier, in New Hampshire, the freshman senator from Florida visited a diner, a pizza place and a candy store – everyday, rather ho-hum places that are considered crucial for establishing a rapport with voters. Rubio often has brought his wife and children along on the campaign.
It is a change in tactic that Rubio has applied to his campaign as the race for the White House kicks into higher gear, with the Iowa caucuses approaching on Feb. 1, and the New Hampshire primary following about a week later.
Rubio and his fellow Cuban-American GOP senator and presidential rival, Ted Cruz, of Texas, both hope to win the support of undecided voters – mainly conservatives – in Iowa and also New Hampshire. As close as the Iowa caucuses are, many Republicans likely to attend them say they haven't made up their minds about whom to select as their favorite for the GOP nomination.
A Bloomberg Politics/Des Moines Register poll conducted last month found that only 33 percent of likely Iowa caucus-goers had made up their minds, with two-thirds saying they could still be persuaded by any candidate. That's in line with voters nationwide, according to a Quinnipiac University poll, which found in late December that nearly 6 in 10 Republicans could change their mind before casting their primary vote.
An overwhelming number of would-be voters say both Cruz and Rubio are in contention for their support. Their policies, personalities and presumed ability to defeat the Democratic nominee in the fall are all under close examination.
Cruz has been a steady presence in Iowa, winning the endorsement of some of the most influential conservatives in the state, including Rep. Steve King, who was just named the national co-chair of the Cruz presidential campaign.
This week, Cruz launched the "Cruzin' to Caucus" bus tour across the Hawkeye State, stopping by local businesses and holding town halls.
People in early voting states like Iowa and New Hampshire are notoriously late deciders and the fact they have a dozen contenders to choose from is making their decision all the more difficult.
That was so among Iowans who gathered before sunrise recently to hear Rubio at a town-hall-style meeting in Cedar Rapids. The Florida senator impressed the crowd but few left having decided if he would get their vote.
"I haven't settled on one candidate 100 percent," said Mike Grover, a 65-year-old who is among the thousands of "persuadable voters" still up for grabs.
In small towns from Cherokee to Sioux Center, an overwhelming number of would-be voters said both Cruz and Rubio are in contention for their support.
Donald Trump comes up often as well, as do retired neurosurgeon Ben Carson and New Jersey Gov. Chris Christie.
At 44 and 45, respectively, Rubio and Cruz are the youngest candidates in the 2016 field and the only Hispanics.
"I've seen Marco Rubio and Ted Cruz," Connie Peterson, a retired 74-year-old Republican, said Wednesday at a Rubio event in Marshalltown. "In ways they seem similar, and I can't make up my mind there." She added: "It's going to be a hard decision."
A day earlier, at a Cruz rally along Iowa's western border, Mondamin real estate agent Lary Clark said he was also torn between the Texas senator, a sharp-tongued combatant in Washington, and the smoother Rubio — both conservatives with tea party roots but divergent paths.
"I want somebody who's going to be able to win the general election," Clark said. By his calculation, Cruz or Rubio, with their Cuban-American heritage, may be best positioned to capture Latino votes in November.
Cruz is working to build on his strong Iowa polling this week with a 28-stop, six day bus tour focused largely on small towns and farm communities. Rubio is making four stops over two days, having spent nine days in the state over the past month, his campaign said.
Rubio, who is lagging behind Cruz in the polls, has been more forceful in criticizing Cruz while they've crisscrossed Iowa. Rubio is bluntly challenging Cruz's commitment to national security, while Cruz casts Rubio as an establishment favorite who supports "amnesty" for immigrants in the country illegally.
Undecided voters say they need more time to sort through the big pack of contenders.
"There's been so many," said Iowa corn farmer Jim Nelson of Cherokee. "We're trying to go through them all. Give them all a chance."
The Associated Press contributed to this report.