Cruz campaign mocks Rubio for wearing 'high-heeled booties' on campaign trail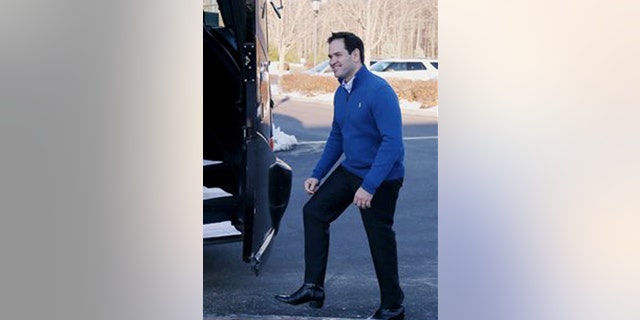 NEWYou can now listen to Fox News articles!
When candidates talk about putting boots on the ground during the campaign, no two candidates mean this more literally than Marco Rubio and Ted Cruz.
The campaign of Texas Sen. Ted Cruz, who is famously known for sporting black ostrich-skin cowboy boots, has taken to mocking rival candidate Marco Rubio of Florida for his choice of footwear while on the stump in New Hampshire.
The fashion-forward junior senator from Florida was spotted by a New York Times photographer sporting a pair of "incredibly fashionable, incredibly well-heeled black leather ankle boots" while strolling up to his campaign bus. The boots, which according to New York Magazine's women's blog "The Cut" are made by either Giorgio Brutini or Maison Margiela and are similar to the ones favored by "One Direction" singer Harry Styles, drew a fast mocking tweet by Cruz's communications director Rick Tyler.
"A Vote for Marco Rubio Is a Vote for Men's High-Heeled Booties," Tyler tweeted.
The Tyler tweet was quickly followed by another from Cruz's rapid response director Brian Phillips, who said "Rubio supports Italian boots on the ground."
Fashion and culture magazine Vanity Fair has also begun speculating that the Florida lawmaker famous footwear was not bought at Famous Footwear. The magazine speculated the boots with a "Cuban heel" (fitting for Rubio) could be anything from an $85 pair from Brutini to a $1,990 pair from designer Tom Ford.
Rubio's camp, however, squashed any rumors of the candidate splurging on designer boots by telling Politico that the pair are actually Florsheims, whose website has them retailing for around $100.
While Cruz's campaign was quick to call out Rubio for his fashion choice, the Texas senator's people might be putting a foot – of better yet, Cowboy boot – in Cruz's mouth.
Cruz is well known for having worn his ostrich cowboy boots since his time as the Texas solicitor general, sometimes paired with American flag socks. Ostrich boots generally range from around $200 to the high $500s.
"Litigators are kind of superstitious, so anytime I went into court to argue a case I wore my argument boots. I had them resoled four or five times," Cruz said in September 2013, according to Politico.
He added: "When I had the great honor of serving in this body, of being sworn into the Senate, when I was sworn in standing on the steps just in front of us, I wore my argument boots. I have worn them every day since. I don't believe there has been a day on this Senate floor that I haven't worn my argument boots."