Colorado Man Unfazed By Criticism, Plans To Sue Rescuers Who Plucked Him From Raging Flood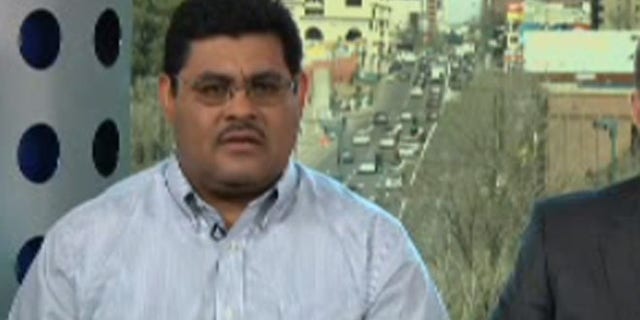 Roy Ortiz is happy to have survived a near drowning in September in a series of devastating Colorado floods, trapped in his half-submerged car for almost two hours.
Yet he's not so content being stuck with nearly $40,000 in medical bills. He said his rescuers are partly to blame, for taking too long to get to him, causing psychological damage and problems with one shoulder, according to comments he gave to various Colorado media outlets.
The Broomfield, Colo., resident is planning to sue his rescuers for $500,000, a move his lawyer called a "preventive" act. Ortiz is also going after Boulder County, saying they're accountable for allowing Ortiz to drive across the flooded road.
Ortiz's lawyer, Ed Ferszt, said recordings of communication among first responders show that they thought he was already dead so they didn't feel the need to rush to save him.
"This road was really dangerous to say the least," Ferszt told 7 Denver News. "Our thoughts were that the county should have made arrangements to close the road, or at least to mark it."
Ortiz's brother, Pedro, who was saved before him – as was Roy's wife – claims in court papers that emergency personnel ignored their pleas for help and that there was no urgency to reach the car. He added that it was only when rescuers were hooking cables to the car to remove it from the creek that they heard Ortiz trying to get out.
Since the notice of intent to file of the lawsuit became public this week, Ortiz has faced harsh criticism, but he insisted that he is not a bad person.
"My name is being defamed; I've been working for the same company for 17 years, I'm co-pastor of a church in Aurora. People know me. I've never caused trouble," he told 7 Denver News.
"I can understand why there's a lot of furor over people thinking that he's biting the hand that feeds. Does that mean that officers of North Metro Fire are above reproach?" Ferszt asked.
He added that they are also in the process of filing claims with the insurance companies of two drivers who crashed into Ortiz's car, pushing him further into the raging water.
"All we're doing right now is trying to put all the cards on the table because this is a big liability sandwich," said Ferszt.
Follow us on twitter.com/foxnewslatino
Like us at facebook.com/foxnewslatino