Colombia extends ceasefire with rebels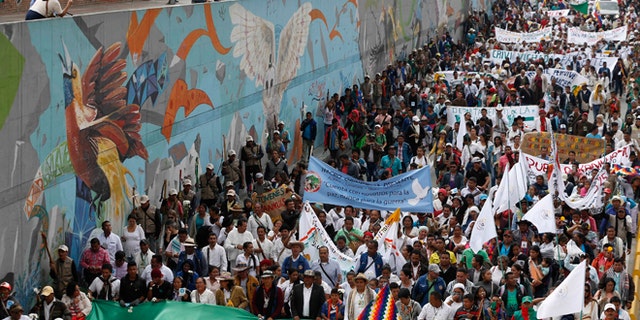 BOGOTA, Colombia – President Juan Manuel Santos announced on Thursday that he is extending a ceasefire with Colombia's largest rebel movement in a bid to give more time to efforts to save a peace deal rejected by voters.
Santos said in a televised address that he was extending by two months the ceasefire with the Revolutionary Armed Forces of Colombia until Dec. 31.
He made the announcement after meeting with students who have been organizing demonstrations across the country to demand the accord be implemented immediately despite it being rejected in a referendum.
"Let it be clear: this isn't an ultimatum or deadline," Santos said, adding that he hoped to have an agreement before year's end. He said the lives of soldiers and guerrillas depended on warfare not resuming. "Time is conspiring against peace and life."
Santos, winner of this year's Nobel Peace Prize, is engaged in three-way talks with the FARC and the opposition to find ways to adjust the accord so that it enjoys broader support.
It's an uphill battle though.
Former President Alvaro Uribe, who led opposition to the accord, is demanding deep changes such as stiffer penalties for rebels who committed war crimes. Meanwhile the rebels, who would be spared jail time under the accord, are insisting they won't go back to the drawing board and throw out more than four years of arduous negotiations with the government.