China's Xi says there's no tolerance for subversion in Hong Kong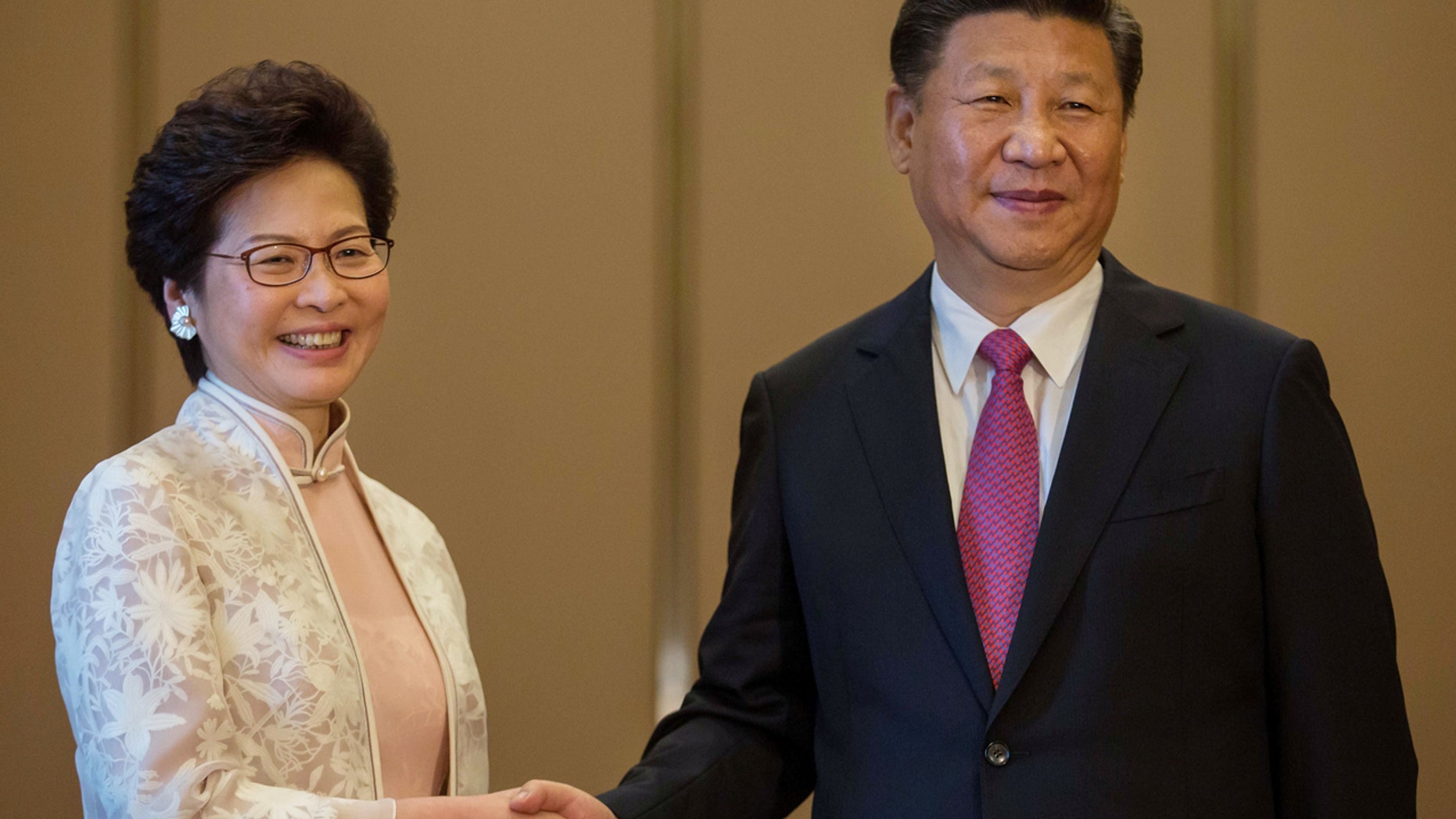 Chinese President Xi Jinping on Saturday said any activities in Hong Kong seen as threatening China's sovereignty and stability would be "absolutely impermissible," employing some of his harshest language yet toward pro-democracy activities in the territory.
In a speech marking 20 years since the city became a semi-autonomous Chinese region after its handover from Britain, Xi pledged Beijing's support for the "one country, two systems" blueprint, under which Hong Kong controls many of its own affairs and retains civil liberties including free speech.
Any attempt to challenge China's sovereignty, security and government authority or use Hong Kong to "carry out infiltration and sabotage activities against the mainland is an act that crosses the red line, and is absolutely impermissible," Xi said.
Xi rode in an open-top jeep past rows of soldiers lined up on an airstrip on his visit to the People's Liberation Army garrison. He called out "Salute all the comrades" and "Salute to your dedication" as he passed 3,100 soldiers arranged in 20 formations.
It was a rare display of the Chinese military's might in Hong Kong, where it normally maintains a low-key presence. China's first aircraft carrier, the Liaoning, is expected to make a port call next month.
Pro-democracy supporters fear Beijing is tightening its grip on Hong Kong and undermining guarantees of wide autonomy under "one country, two systems."
Nathan Law, a former student protest leader elected to Hong Kong's semi-democratic legislature last year, was among those arrested.
U.S. officials said they were concerned that China's Communist leaders weren't sticking to their promises.
"Looking ahead to the remaining 30 years of 'one country, two systems,' we cannot allow Hong Kong to go the way of Beijing's failed authoritarianism," Sen. Marco Rubio, R-Fla., chairman of the Congressional-Executive Commission on China, said in a statement.
Xi said Hong Kong had to do more to shore up security and boost patriotic education, in a veiled reference to legislation long-delayed by popular opposition.
And he appeared to put on notice a new wave of activists pushing for more autonomy or even independence, saying challenges to the power of China's central government and Hong Kong's leaders wouldn't be tolerated.
"Making everything political or deliberately creating differences and provoking confrontations will not resolve the problems," he said. Hong Kong "cannot afford to be torn apart by reckless moves or internal rifts."
While former colonial master Britain and other Western democracies have expressed concerns about Beijing's actions in Hong Kong, China has increasingly made clear it brooks no outside criticism or attempts at intervention.
Xi said China had made it "categorically clear" in talks with Britain in the 1980s that "sovereignty is not for negotiation."
"Now that Hong Kong has returned to China, it is all the more important for us to firmly uphold China's sovereignty, security and development interests," he said.
Chinese foreign ministry spokesman Lu Kang sent a similar message in Beijing on Friday, saying Hong Kong was strictly China's domestic affair.
Earlier, Xi presided over a swearing-in ceremony for Carlie Lam, Hong Kong's fifth chief executive since 1997. The life-long bureaucrat and her Cabinet swore to serve China and Hong Kong and to uphold the Basic Law, the territory's mini-constitution.
In a speech that ran far shorter than Xi's 32-minute address, Lam reviewed the dynamic financial center's achievements and challenges, pledged to support central government initiatives and declared that "the future is bright."
Lam prevailed over a much more popular rival in an election decried by many as fundamentally undemocratic, with only a sliver of a percent of Hong Kong's more than 3 million registered voters taking part.
Xi was due to return to Beijing midday Saturday. His three-day visit aimed at stirring Chinese patriotism had prompted a massive police presence and also included a visit to the People's Liberation Army garrison, which usually maintains a low profile in the territory.
Ahead of a flag raising ceremony Sunday, a small group of activists linked to the pro-democracy opposition sought to march on the venue carrying a replica coffin symbolizing the death of the territory's civil liberties. They were swiftly stopped by police and Chinese flag-waving counter protesters, with the action ending about an hour later.
Xi's remarks will likely fuel fears among critics that Beijing's ruling Communist Party is tightening its grip over the city's political and civil affairs following a string of recent incidents.
Those include the abductions of five Hong Kong booksellers to the mainland starting in late 2015 for selling gossipy titles about elite Chinese politics to Chinese readers. One of the men, Gui Minhai, is still being held.
In a similar case, a Chinese-born tycoon with a Canadian passport went missing earlier this year from his hotel suite. News reports indicated mainland Chinese security agents operating in Hong Kong abducted him -- a step that would violate the Basic Law.
A plan to station Chinese immigration officers in a high-speed rail terminal under construction has also raised hackles, along with the establishment of a local branch of Beijing's Palace Museum without public consultation.
Concerns are also high over the two long-delayed policies Xi referenced in his speech: the so-called patriotic national education in schools that many parents fear is a cover for pro-Communist brainwashing, and the anti-subversion national security legislation.
Inflows of "red capital" from mainland property investors and businesses are also seen as leaving indigenous tycoons at a disadvantage, while further inflating housing prices that make Hong Kong one of the world's most unequal places.
Zhang graduated last year with a master's degree in environmental engineering from one of China's elite schools, Peking University Shenzhen Graduate School. She had been doing research on crop photosynthesis, which included using drones to study fields, the university's communications office has said.
The Associated Press contributed to this report