China's stealth fighter jets feature missiles during airshow show of force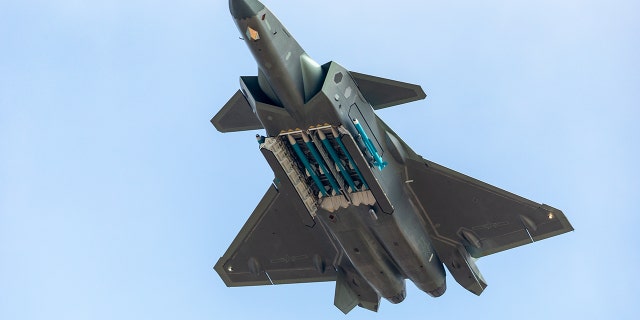 China's largest airshow featured a show of force Sunday, as the country showed off the missiles in its advanced J-20 stealth fighter jet during a flyover.
The two J-20 fighter jets opened their missile bay doors to the public and displayed the six missiles inside, the Global Times reported.
Chinese experts told the state newspaper the airshow demonstration, which was part of the celebration of the 69th birthday of the Chinese People's Liberation Air Force, was to show off the aircraft's superiority to U.S. fighter jets.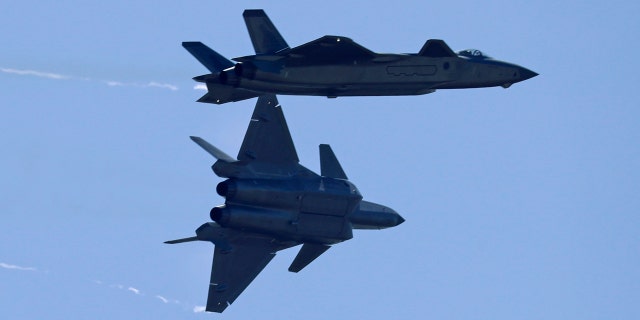 Four of the missiles in the J-20's belly are long-range air-to-air missiles, while the two on the sides are short-range combat missiles intended for dogfights, Song Zhongping, a military expert, told the Global Times.
Song added the aircraft can carry a variety of missiles, which shows the J-20's "strong aerial control capability."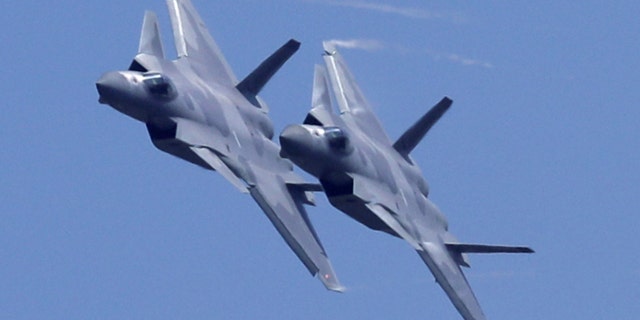 The airshow in southern China that showcases China's latest advancements in military and civilian aviation also featured a model of a stealth combat drone.
The CH-7 unmanned aerial vehicle also underscores China's growing competitiveness in the expanding global market for drones. China has won sales in the Middle East and elsewhere by offering drones at lower prices and without the political conditions attached by the U.S.
CHINESE OFFICIAL FINDS TRUMP 'VERY CONFUSING,' SAYS US WARSHIPS AT CHINA'S DOORSTEP BUILDING TENSION
The CH-7's chief designer Shi Wen says the drone can "fly long hours, scout and strike the target when necessary."
"Very soon, I believe, in the next one to two years, [we] can see the CH-7 flying in the blue skies, gradually being a practical and usable product in the future," Shi told The Associated Press.
China's burgeoning air industry, in addition to tough talk over islands claimed by Beijing in the South China Sea, has shown how the country is showing off growing confidence in its technology.
"I might not be a plane specialist, but I can feel the way China is changing," Xie Dongni, a marketer for an information technology company, told the AP. "It is getting stronger slowly, its international status is growing higher and higher."