China spotted illegally selling oil to North Korea, report says
U.S. spy satellites reportedly captured photos of Chinese ships illegally selling oil to North Korean boats some 30 times since October.
Satellite images released by the U.S. Department of Treasury appeared to show vessels from both countries illegally trading oil in the West Sea, The Chosun Ilbo reported Tuesday, citing South Korean government sources.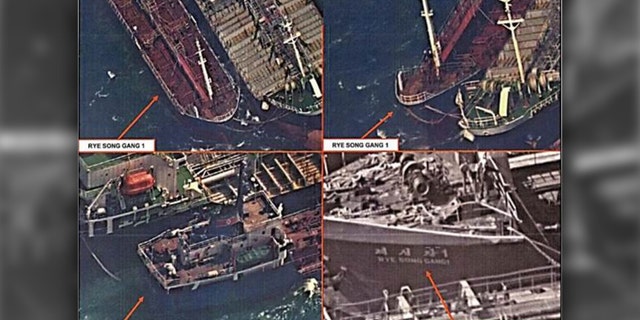 North Korea was barred in September by the United Nations Security Council from importing natural gas and had its crude oil imports capped in response to Kim Jong Un's nuclear missile program.
The U.S. Treasury in November also sanctioned North Korea's Maritime Administration and its transport ministry, in addition to six North Korean shipping and trading companies and 20 of their vessels, in an effort to block the rogue regime's transportation networks.
The satellite images appear to identify the ships. One of them — Rye Song Gang 1, seen "connected to a Chinese vessel" — was included in the Nov. 21 sanctions as a vessel of Korea Kumbyol Trading Company possibly transferring oil to evade sanctions.
While Russia exports some oil to North Korea, China is the main source of oil for the rogue nation, according to Reuters. However, the country exported no oil products to the North during the month of November. It was reportedly the second consecutive month China didn't export diesel or gasoline to North Korea.
NORTH KOREA CALLS UN SANCTIONS 'AN ACT OF WAR,' 'RIGGED UP BY THE US'
"This is a natural outcome of the tightening of the various sanctions against North Korea," Cai Jian, an expert on North Korea at Fudan University in Shanghai, told the news organization. Cai added the "tightening ... reflects China's stance."
It's unknown if China supplies crude oil to the North, but it's believed by industry insiders that China provides the cutoff nation 3.8 million barrels of crude oil each year through an "aging pipeline," Reuters reported.
A government source told the South Korean newspaper that, "We need to focus on the fact that the illicit trade started after a UN Security Council resolution in September drastically capped North Korea's imports of refined petroleum products."
Robert Kelly, a professor at Pusan National University in South Korea, told The Telegraph that China trading oil to North Korea could be possible.
NORTH KOREA'S OTHER WEAPONS: EXPERT WARNS NUKES AREN'T BIGGEST CONCERN
"There is a lot of under-the-radar on the Chinese side," Kelly said. "Beijing does not police the border strictly or enforce the sanctions toughly. This could be that."
Chinese foreign ministry spokeswoman Hua Chunying said she had no information following Chosun's report, but said "the Chinese government has been completely and strictly enforcing Security Council resolutions" aimed at discouraging North Korea from developing nuclear and missile technology.
Hua questioned whether any country could make sure "not a single breach will happen," but noted: "We are taking a sincere and serious attitude and forceful and effective actions."
The Associated Press contributed to this report.